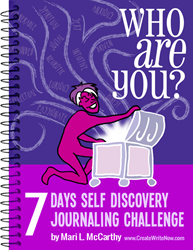 "This challenge is for individuals who are prepared to make a commitment to a daily journaling practice. Participants need to understand it can be a lot of work. But the work pays off."
Boston, MA (PRWEB) September 08, 2014
The launch of CreateWriteNow's new journaling program, Who Are You? 7 Days Self Discovery Journaling Challenge, is scheduled for Wednesday, October 1, 2014.
The latest in a series of journaling programs aimed at helping individuals use the power of journaling to cultivate a more meaningful and fulfilling life, the 7 Days Journaling Challenge is an ideal course for anyone wishing to use journaling as a tool for personal transformation and growth.
For those just beginning to develop a daily journaling practice, the Challenge is a perfect "first step." And for more experienced journalers who wish to sharpen their journaling skills—or those who simply have a desire to get their journaling "back on track"—the program offers fresh inspiration and guidance.
Developed by Mari L. McCarthy, journaling therapy expert and founder of CreateWriteNow, the upcoming Journaling Challenge is a 7-day program that takes participants on a step-by-step journey of self-reflection and growth through a unique combination daily journaling and on-line interaction and support.
As they work their way through a series of daily journaling exercises, participants will explore "who they really are" and develop a clear sense of purpose and direction that will help them overcome obstacles, achieve personal goals and ultimately live a happier, more fulfilled life.
Along with daily writing prompts, the Who Are You? 7 Days Journaling Challenge eWorkbook provides gentle guidance, tips and encouragement, while a complementary Facebook group supports interaction with other participants along with direct coaching and support from Mari L. McCarthy herself.
According to Mari, "This challenge is for individuals who are prepared to make a commitment to a daily journaling practice. Participants need to understand it can be a lot of work."
Added Mari, "But the work pays off."
The 7 Days Journaling Challenge is being offered free of charge to participants. The course eWorkbook will need to be purchased and is available in multiple formats. The eWorkbook is available in downloadable, PDF format in CreateWriteNow's online store and can also be purchased as a download for Kindle, iPad, NOOK and Sony Reader.
About CreateWriteNow
CreateWriteNow teaches individuals how to use the power of daily journaling to achieve self-discovery, personal transformation and perfect health. Founded by Mari L. McCarthy, who has used the power of daily journaling herself to overcome many of the debilitating effects of Multiple Sclerosis, the company publishes regular articles, journaling prompts, videos and eBooks and holds a number of interactive journaling challenges throughout the year.
Learn more at http://www.createwritenow.com
Learn more about the Who Are You? 7 Days Self Discovery Journaling Challenge here:
http://www.createwritenow.com/who-are-you-journaling-challenge/
Contact: Mari L. McCarthy
mari(at)createwritenow(dot)com
(781) 635-5175
Twitter: https://twitter.com/CreateWriteNow
Facebook: https://www.facebook.com/CreateWriteNow
LinkedIn: http://www.linkedin.com/company/create-write-now
YouTube: http://www.youtube.com/user/MariLMcCarthy/videos