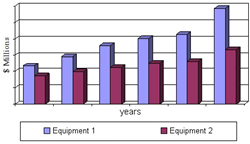 Global Market for Sludge Treatment and Odor Control to reach 9.2 Billion by 2019
Wellesley, Mass. (PRWEB) September 08, 2014
BCC Research (http://www.bccresearch.com) reveals in its new report, "Municipal and Industrial Sludge treatment and Odor Control: The Global Market," the global sludge treatment and odor control market is forecast to reach nearly $6.9 billion by the end of year 2014. The compound annual growth rate (CAGR) during the forecast period of 2014 to 2019 is estimated to be 5.9%. At this rate, the market value will reach $9.2 billion by 2019.
Ever larger quantities of wastewater combined with more advanced levels of treatment are resulting in increased sludge volumes across the globe. In turn, concerns and regulations regarding sludge neutralization and storage are also growing. As a result, sludge treatment, management and sludge reuse technologies are in growing demand. Harmful and toxic residues in sludge can be reduced via sludge treatment equipment and, increasingly, these systems enable the beneficial reuse of sludge in a safe and economical way.
The sludge treatment technology was valued at more than $4 billion in 2013 and is estimated to reach nearly 4.3 billion by the end of 2014. At this rate, it is forecast to grow to $5.9 billion by 2019, registering a five-year CAGR of 6.5% from 2014 to 2019. The sludge drying sector is the fastest growing among all sludge treatment technologies worldwide.
"The sludge handling industry is inherently conservative in adopting new technologies. However, increasingly strict regulations and a desire to beneficially reuse sludge are helping to expand the market," says BCC Research analyst, Susan Hanft. "As coverage increases, so will the sludge volumes requiring treatment. In developed countries, where basic sludge handling is already widely practiced, advanced technologies, such as those for energy recovery and biogas production, drive the market."
"Municipal and Industrial Sludge treatment and Odor Control: The Global Market" analyzes the global sludge treatment and odor control equipment market, including systems for sludge digestion, sludge dewatering, sludge drying, and physical, chemical and biological odor control technologies through 2019. Overviews of each segment including current issues affecting the industry, equipment types, legislation relevant to the markets and end-user requirements are also discussed. Market sizes for each segment are given from 2005 through 2014.
Editors and reporters who wish to speak with the analyst should contact Steven Cumming at steven.cumming(at)bccresearch(dot)com.
About BCC Research
BCC Research publishes market research reports that make organizations worldwide more profitable with intelligence that drives smart business decisions. These reports cover today's major industrial and technology sectors, including emerging markets. For more than 40 years, we have helped customers identify new market opportunities with accurate and reliable data and insight, including market sizing, forecasting, industry overviews, and identification of significant trends and key competitors. We partner with analysts who are experts in specific areas of industry and technology, providing unbiased measurements and assessments of global markets. Our clients include the top companies in industries around the world as well as universities, business schools, start-ups, consulting firms and investment companies. BCC Research is a unit of Eli Research LLC. Visit our website at http://www.bccresearch.com. Contact us: (+1) 781-489-7301 (U.S. Eastern Time), or email information(at)bccresearch(dot)com.
Data and analysis extracted from this press release must be accompanied by a statement identifying BCC Research LLC, 49-2 Walnut Park, Wellesley, MA 02481, Telephone: (+1) 781-489-7301; Email: editor(at)bccresearch(dot)com as the source and publisher. Thank you.