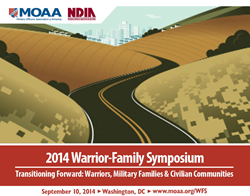 Alexandria, Va. (PRWEB) September 08, 2014
Sloan Gibson, VA deputy secretary, and Lt Gen Douglas Robb, Director, Defense Health Agency, will speak at the 2014 Warrior-Family Symposium (WFS) on Wednesday, Sept. 10, at the Ronald Reagan Building and International Trade Center in Washington, D.C. The event, "Transitioning Forward: Warriors, Military Families and Civilian Communities," will be held from 8:30 a.m. to 3 p.m., (registration opens at 7:30 a.m.) followed by optional workshops from 3:05 to 4 p.m., and is cohosted by the Military Officers Association of America (MOAA) and the National Defense Industrial Association (NDIA). USAA is the executive sponsor of the event.
The WFS will provide a forum for governmental and nongovernmental organizations to explore and address the matters and needs currently serving military personnel and veterans and their children, spouses and caregivers face when tackling the transition from the military environment into the civilian environment while managing challenges of combat/operational stress or mental health or behavioral health care concerns.
Lt. Gen Robb will be the luncheon keynote speaker.
Mr. Gibson will be the closing speaker and share his thoughts on collaboration and how our Nation's Veterans and their families benefit from outcomes and impacts of innovative partnerships.
To view the complete event agenda with a full speaker list, please visit http://www.moaa.org/wfs.
Three panels and workshops will focus on:

managing reintegration from the military to civilian community, highlighting what works;
the needs and impact on military children and families dealing with mental health concerns in the home and why this matters to every community; and
tools for navigating a smoother transition in terms of how veterans and military families and children can better manage the challenges associated with combat/operational stress and post-traumatic stress, before and during reintegration.
Registration is free and includes lunch. The morning and afternoon panels are
"Life at Home: Tackling Education, Employment and Justice"
"Behavioral Health: Why Military Children and Families Matter in a Civilian Community" (Moderated by Lee Woodruff, cofounder, Bob Woodruff Foundation; author of New York Times bestseller In an Instant: A Family's Journey of Love and Healing)
"Paths for Achieving Readiness for Tomorrow" (Moderated by Derek McGinty, weekday anchor, WUSA 9 News, and weeknight co-anchor, WUSA 9 News)
MEDIA NOTE: All media attendees interested in covering the event can register by emailing pr@moaa.org; include your name, outlet, email, and phone number. There will be a media check-in at the event.
Speakers, panelists and leaders of MOAA and NDIA will be available for interviews.
Follow the discussion on Twitter with #WFS2014.