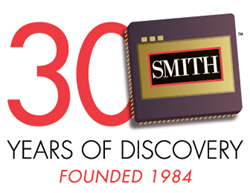 We look forward to having our new senior executive team help lead us into Smith's next thirty years.
HOUSTON, TX (PRWEB) September 09, 2014
Smith & Associates, the largest independent distributor of electronic components, today announces two new executive appointments. Kirk Wehby is joining the senior executive team as Chief Operating Officer to manage global operations, quality, logistics, security, and facilities. Matthew Hartzell is taking on responsibility for the company's legal, accounting, human resources, and IT operations in the new role of Chief Administrative Officer. Both appointments come as the company marks its thirtieth year in business and enjoys a period of unprecedented growth.
Kirk previously served as Vice President of Global Operations for Smith, from 2008-2012, and is currently CEO of the solar technology company ONTILITY, a role in which he will continue in addition to his new duties at Smith. Prior to joining the Smith family of companies, Kirk was Director of Operations and Supply Chain for Cardone Industries (1997-2008), where he managed startup and integration of manufacturing operations in Belgium and Mexico. He received a B.S. from Oral Roberts University and his M.B.A. from Westchester University of Pennsylvania. Now, he will be leveraging his varied and extensive supply chain knowledge to manage and expand the company's worldwide operational front.
"Moving Smith forward operationally is vital, which means always working diligently to stay at the industry's forefront," said Kirk. "Enhancing our innovative SmithSecure program, pursuing additional industry certifications, and constantly investigating cutting-edge counterfeit detection equipment will be great first steps toward this."
In addition, Kirk plans to leverage the expansive skills of his quality staff by offering them new training and development opportunities to educate them on the latest industry topics and issues so that they can keep increasing the extensive support they offer Smith's customers.
"I hope to support Smith's growth in my new role by always facilitating operational excellence and continuous improvement," said Kirk, "and never wavering in our company's unique and deep-seated focus on quality and customer service."
Matt Hartzell steps into the new role of Chief Administrative Officer, leveraging his years overseeing the company's operational and administrative functions worldwide. He, Marc Barnhill, Chief Trading Officer, and Kirk Wehby will together serve as Smith's senior executive team.
"As Smith looks toward the future, expansive support of quality and compliance, as well as the continued development and growth of the support systems in every segment of our company, will be key to providing our customers new levels of service," said Matt. "I look forward to bringing more intensive and specified focus to our administrative functions worldwide to innovate for even greater efficiency."
Matt joined Smith & Associates as General Counsel in 1998 and served as Chief Operating Officer from 2008 to 2014, overseeing the company's operational and administrative functions worldwide. Before joining Smith, Matt was a shareholder with Hirsch and Westheimer, P.C. (1985-98). He received his B.A. from St. John's College, and his J.D. from the University of Houston College of Law. Matt is also on the board of directors of Allegiance Bancshares, Inc. in Houston.
"We look forward to having our new senior executive team help lead us into Smith's next thirty years," said co-founder Leland Ackerley.
About Smith & Associates
Founded in Houston in 1984, Smith & Associates is a leader in the independent distribution of semiconductors and electronic components to electronics and high-tech manufacturers. Smith offers shortage sourcing for commodity and obsolete parts, innovative purchasing and inventory management solutions, redistribution of excess inventory, and component stocking for warranty and repair programs.
A privately-held company, Smith & Associates employs more than 350 people worldwide, with annual revenue in excess of US $586 million. Smith's regional hubs in Houston, Hong Kong, and Amsterdam are ISO certified. In addition, sales and purchasing offices are located in Austin, Silicon Valley, Guadalajara, New York, Shanghai, Shenzhen, Seoul, Singapore, Taipei, and Penang. For more information, see http://www.smithweb.com/ or, to reach a Smith representative 24 hours a day, please call: 1.800.HOUSTON or +1 713.430.3000.
###
For more information, contact:
Mark Bollinger
Smith & Associates, V.P. of Marketing
+1 713.430.3000
mbollinger(at)nfsmith(dot)com