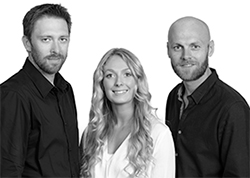 We are very glad to welcome Matt, Kate and Tom to our growing team
Victoria, BC (PRWEB) September 09, 2014
FunctionFox, the leading provider of time and project tracking software for small creative companies, continues its strong rate of growth, as it welcomes three skilled and enthusiastic new Account Managers. These new 'Foxes': Tom Woulfe, Kate Stoness and Matt Cox, will join our expanding account-management group.
Tom Woulfe has a stellar record of providing exemplary customer service established through increasingly responsible positions in the volatile UK financial sector. Recently arrived on Vancouver Island, Tom will bring unique style of caring and customer-centered assistance to our customers and prospects. In his spare time Tom is embracing BC's outdoor lifestyle and learning to snowboard.
Kate Stoness is also enthusiastic and highly motivated to provide outstanding customer service. With a Bachelor in Science degree from the University of Victoria, Kate loves technology, and is able to easily understand customers' needs and give thoughtful guidance and support. Her ability to assess challenges and provide alternative solutions will be invaluable in her new role at FunctionFox. Kate is a native Vancouver Islander who enjoys hiking, biking, and horse back riding.
Matt Cox has a strong background in retail sales and extensive small business experience, which will stand him in good stead in his new role here at FunctionFox. Matt's drive to succeed, and confident, relaxed approach will allow him to easily connect with our customers and prospects. A native Islander, Matt enjoys fishing, golf, hockey, camping, and hiking.
"We are very glad to welcome Matt, Kate and Tom to our growing team," says Corina Ludwig, President at FunctionFox. "Each of them brings different skills to the company, but they have one thing that unites them - a true passion for connecting with customers and providing outstanding service. Their skills, breadth of experience, and enthusiastic attitudes will contribute greatly to our company's success."
About FunctionFox
FunctionFox is the leading provider of time and project tracking software for small creative companies. TimeFox, its web-based timesheet and project management software, is the number one ranked time-tracking system in North America. Graphic design, advertising, communications, marketing, multimedia, public relations, and interactive firms all choose TimeFox as their web-based time and project management application. TimeFox is currently used by thousands of customers in Canada, the US, Europe, Asia, Australia and New Zealand.
For more information please visit http://www.functionfox.com or contact:
Corina Ludwig, President
FunctionFox Systems Inc.
#2-415 Dunedin Street
Victoria, BC, Canada
V8T 5G8
Toll-Free: 1.866.369.8463
Tel: 1.250.479.1285
Fax: 1.250.479.1285
Email: info(at)functionfox(dot(com