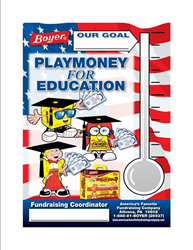 "As Fundraising organizations ask families nationwide to save their box tops and food labels; why not Play Money!" -Deborah Forgione
Altoona, PA (PRWEB) September 10, 2014
For over 80 years Boyer Candy has maintained the longest ongoing consumer rebate program for their loyal Mallo Cup customers where they saved 500 Play Money points for cash and valuable prizes. Now with a 5 ½% nationwide redemption rate, this program is now extended to Boyer's newly developed Fundraising Program.
It was a natural to create Boyer's Play Money for Education Program. "As Fundraising organizations ask families nationwide to save their box tops and food labels; why not Play Money!" says Deborah Forgione, Director of Marketing. "What sets our program apart is that we give cash directly to the organizations. We do not make the schools buy equipment at full list price through a catalogue. The organization has a choice on how the funds are best used."
This coupled with Boyer's already aggressive fundraising program where a school or organization can raise up to a 60% profit. Collecting the Play Money could add up to an additional 12% per kit. This is an ideal turnkey fundraiser for schools, churches, sports, bands, choral groups, and youth organizations.
For more information please go to our website http://www.americasfavoritefundraisingcompany.com or contact our Fundraising Coordinator, Terri Bradford.