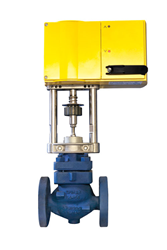 Blythewood, South Carolina (PRWEB) September 10, 2014
Spirax Sarco, the leader in products and services for steam system solutions is pleased to release the BCV43 series blowdown control valves in line sizes ¾" and 1 ½". This new range of BCV43 blowdown control valves are based on the SPIRA-TROL platform and are designed to maintain the TDS at an optimum level keeping blowdown to a minimum, thus maintaining a healthy steam and condensate system and conserve water and energy. The BCV43 blowdown control valves are suitable for a wide variety of applications where boilers are operated unsupervised for 24 to 72hr. periods.
The BCV43 blowdown control valve range has been engineered to minimize seat erosion ensuring consistent tight shut-off. No special tools are required; allowing easy maintenance with reduced downtime.
Additional features of the BCV43 include:

Suitable for all steam boiler TDS applications up to ASME class 600
Clamp-in-place seat design
Choice of pipe and flange connections
Available with a choice of electronic or pneumatic actuation
Accurate control of TDS levels on high pressure, low flow applications
Contact your local Spirax Sarco representative to assist you in matching the most appropriate size to meet your specific needs.
About Spirax Sarco, Inc.
Spirax Sarco is the world leader in steam system management. The Company provides a broad range of fluid control products, engineered packages, systems expertise and site services for its diverse range of over 100,000 industrial and institutional customers. The Company helps its customers to optimize production capacity, reduce energy costs and emissions, improve product quality and enhance the safety of their operations. Spirax Sarco has strategically located manufacturing plants around the world and employs approximately 4,700 people, of whom around 1,300 are direct sales and service engineers. Further information can be found at http://www.spiraxsarco.com/us.