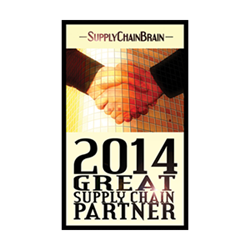 Open Sky...a celebrated member of this year's 100 Great elite crew."
Raleigh, NC (PRWEB) September 10, 2014
Open Sky Group (Open Sky), an independent consulting company specializing in the implementation of Warehouse Management Systems, is honored to be named to SupplyChainBrain's "100 Great Supply Chain Partners" for the third year running. Now in its 12th year, this prestigious list highlights select companies whose solutions and services have been so impressive that customers took the time to write and let SupplyChainBrain magazine know.
SupplyChainBrain received nominations for hundreds of solutions providers in every aspect of supply chain management during their six-month online poll in which supply chain professionals were asked to nominate vendors and service providers whose solutions have made a significant impact on their company's efficiency, customer service and overall supply chain performance.
"Congratulations to Open Sky Group for making SupplyChainBrain's select list of 2014 Great Supply Chain Partners! Open Sky appeared in the 2014 July/August issue of SupplyChainBrain magazine as a celebrated member of this year's 100 Great elite crew." said Brad Berger, Publisher, SupplyChainBrain.
Curt Sardeson, Managing Principal of Open Sky, says, "Thank you to all who nominated us. We're proud to be named for the third time to this distinguished list. We look forward to continuing to earn the honor through the work we love to do. Congratulations to all of the 2014 Great Supply Chain Partners!"
ABOUT SUPPLYCHAINBRAIN
SupplyChainBrain, the world's most comprehensive supply chain management information resource, is accessed year round through a wide range of ever evolving multi-media formats by hundreds of thousands of senior level industry executives.
ABOUT OPEN SKY GROUP
Open Sky Group is an independent consulting company specializing in services for Warehouse Management System (WMS) software implementations. With highly experienced resources, Open Sky strives every day to be the best consulting partner on the planet for implementing Supply Chain solutions. Open Sky is an Authorized Reseller of JDA WMS, WFM and other add-on products.
Contact: Open Sky Group
Darcy Reeves
Marketing Director
419.517.4567
darcy(dot)reeves(at)openskygroup(dot)com
http://www.openskygroup.com