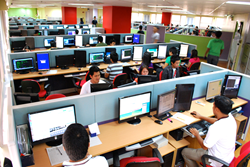 "Most carriers who hesitate to innovate their business process management functions do so because of legacy."
Atlanta, Georgia (PRWEB) September 10, 2014
Fast-growing, outbound Western 11 LTL carrier SHIFT Freight has handed over its freight rate auditing function to trusted partner and leading freight business process specialist DDC FPO. DDC has designed and implemented a customized freight rate auditing solution, enhancing its current suite of offerings already achieving cost containment, labor elasticity and high quality metrics for top U.S. carriers.
By leveraging expertise, scalability, flexibility and system compatibility, combined with an extensive list of service capabilities, the DDC FPO freight rate audit model examines, adjusts and verifies carrier freight bills for accuracy and relays to the client overnight for invoicing.
According to SHIFT Freight's vice president Tommy Skinner, the company's accounting department had been splitting its time between core competencies and the peripheral, however critical, administrative duty of auditing the bills every morning. In addition to re-allocating the strong talents of SHIFT's accounting department to more highly skilled, strategic assignments, SHIFT can also now benefit from the around-the-clock processing.
"We now get more accurate daily revenue numbers, and a much clearer depiction of our finances, first thing every morning," said Skinner.
SHIFT's newly improved invoice accuracy is a key benefit to having this function outsourced, ultimately resulting in an enhanced customer experience. Time once spent on auditing freight bills internally can now be utilized serving their customers in more pertinent ways.
"Most carriers who hesitate to innovate their business process management functions do so because of legacy," said Skinner. "They've had the same person or group of people in-house auditing their bills for years. Their fear of change overpowers their desire to stay competitive and drive higher value to the customer."
SHIFT Freight is fairly new to the trucking scene, but its standard of innovation and the utilization of best practices since its inception has reaped tremendous growth in the past 12 months.
"To me," Skinner explained, "it all comes down to resource allocation."
Chad Crotty, DDC FPO vice president of sales, is pleased with the effect that proactive clients like SHIFT are having on DDC: "We already look at each freight bill as we key it, so going a step further and taking on the rate audit was a natural progression."
"Tommy Skinner has been a great resource and partner in helping us stretch our legs to conquer new ground for the industry," continued Crotty. "I am excited to see where these new service offerings take us over the next couple years."
Earlier this year, SHIFT and DDC announced a successful rollout completion of BOL processing, as well as a CRM project and POD retrieval, coding and reporting.
About SHIFT Freight LLC
Based in Southern California, SHIFT Freight moves less-than-truckload shipments across the country for a variety of 3PLs and shippers. SHIFT Freight prides itself on its customer focus, technology and innovation, providing a better experience than what customers have come to expect in freight. For more information on SHIFT Freight, visit http://shiftfreight.com/. Tweet with them on Twitter at http://twitter.com/shiftfreight or be friendly with them on Facebook at http://facebook.com/shiftfreight.
About DDC Freight Process Outsourcing LLC
DDC FPO is a division of The DDC Group. The DDC Group has been custom-designing and implementing business and knowledge process outsourcing (B&KPO) solutions since 1989. With operations across North America, Europe and Asia-Pacific, DDC's 3,500-strong staff delivers services in over 20 languages with ahead-of-the-curve industry standards. The DDC hybrid model equips its world-class clientele with strategic B&KPO solutions fundamental for each organization's future profitability. For more information, visit: http://www.ddcfpo.com and http://www.theddcgroup.com.