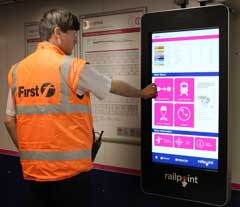 We are committed to making ongoing investments to continue providing our customers with a better value-for-money service
(PRWEB UK) 11 September 2014
First Capital Connect (FCC) has launched new interactive information touchscreens similar to massive smartphones as part of a £2.5m Customer Information Initiative Fund from the Department for Transport.
Electronic 'whiteboards' have also been installed at the 11 stations: Blackfriars*, Welwyn Garden City*, Elstree & Borehamwood, City Thameslink, Finsbury Park, Elephant and Castle, Stevenage, Potters Bar, St Albans, Hitchin and Luton (*touchscreens due to go live Friday at these stations).
The touchscreens will enable customers to access information about live departures, planned engineering works and local station information. Further applications can be introduced as the software is developed.
FCC Customer Services Director, Keith Jipps said:
"We are committed to making ongoing investments to continue providing our customers with a better value-for-money service.
"The interactive touchscreens will enable customers to access real time journey information for FCC and London Underground services. They will also be able to check up to date planned engineering works and route timetables.
"They will make a fantastic addition and complement existing information channels already available."
The whiteboards can be used to display up to date journey information, posters in electronic format and helpful information at times of disruption. They can even be used to wish well known passengers a happy birthday!
All the screens will remain in place when Govia Thameslink Railway takes over the FCC network on 14 September, operating as Thameslink and Great Northern.
About First Capital Connect
First Capital Connect operates trains from London to Bedford, Brighton, Wimbledon and Sutton on the Thameslink route and Peterborough, Cambridge and King's Lynn on the Great Northern route.
Approximately 180,000 people travel with First Capital Connect every weekday – 95,000 on the Thameslink route and 85,000 on the Great Northern route.