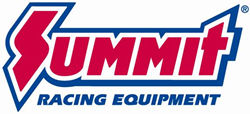 Tallmadge, OH (PRWEB) September 19, 2014
Summit Racing now offers Quicktime Bellhousings are available to mate Ford, GM, Mopar, Pontiac, AMC, and Oldsmobile engines to popular manual transmissions including Tremec TKO, Borg-Warner T-5 and T-56, and Muncie/Saginaw 4-speeds.
Quicktime made a name for itself supplying circle track and drag racers with near-bulletproof transmission components. Its bellhousings are built from high-grade steel that's spun, not stamped, resulting in superior strength and stability without adding any significant weight—in fact, a Quicktime Bellhousing weighs just 17 pounds. These bellhousings are made in the U.S.A. and are universal vehicle-fit. Owners of modified cars should check for clearance issues before installation.
Many Quicktime Bellhousings carry SFI 6.1, 6.1W, and 30.1 ratings to meet the rules of many racing sanctioning bodies.
See all Quicktime Bellhousings at Summit Racing.
Summit Racing Equipment
http://www.SummitRacing.com
1-800-230-3030