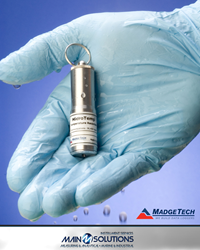 "We are very pleased to see the success of Main Solutions continue and extend the availability of MadgeTech products to new territories"
(PRWEB) September 17, 2014
For over a year now, Main Solutions has been the premier supplier of MadgeTech data logging products to industries in Greece specializing in the fields of metrology, calibration, measuring equipment and the development of management systems for certification and accreditation. Main Solutions prides themselves on their customer service, quality, and technical support.
MadgeTech Inc. is excited as Main Solutions continues to expand their reach internationally. "We are very pleased to see the success of Main Solutions continue and extend the availability of MadgeTech products to new territories," states Tabitha Lemelin, Director of Sales at MadgeTech Inc.
MadgeTech manufactures data loggers in the U.S. for a wide range of industries around the globe, from food monitoring to sterilization validations and much more. Main Solutions offers many MadgeTech data loggers and products including the 2000A wireless series of data loggers, which boast real-time continuous data monitoring, and the AVS140-6 Autoclave Validation System which offers a turn-key secure solution for sterilization validation. MadgeTech data loggers come with MadgeTech's free, easy to use data logging software for device management, data analysis and reporting.
Main Solutions remains true to MadgeTech's ideology, based on providing customers with a complete data logging solution while continually securing a long term partnership by guaranteeing prompt, accurate, and reliable services.
To contact Main Solutions, please visit their website at http://www.mainsolutions.eu, or call their sales staff at +30 21 10121853.