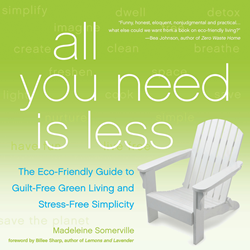 "Chock-full of ways to save both the planet and money."—Edge
(PRWEB) September 11, 2014
Madeleine Somerville, author of All You Need is Less: The Eco-Friendly Guide to Guilt-Free Green Living and Stress-Free Simplicity (Viva Editions 2014), was recently featured in Natural Awakenings as a green living expert.
Natural Awakenings writes, "While the kitchen harbors the most germs in the house, the bathroom is a close second. Instead of harsh chemical cleansers, try white vinegar, a safe and economical alternative. Its acidity is effective in killing most germs. Madeleine Somerville, of Edmonton, Alberta, Canada, uses heated vinegar misted on the shower door to remove soap scum. To achieve a shiny tub, she advises mixing one-quarter cup of baking soda, one tablespoon of natural dishwashing soap and enough water to make a paste. The baking soda also freshens the drain when the tub is rinsed. Toilet bowl ring stains can be scrubbed away with a pumice stone."
All You Need is Less
The Eco-friendly Guide to Guilt-Free Green Living and Stress-Free Simplicity
By Madeleine Somerville
Top eco-blogger and new parent Madeleine Somerville has gathered completely original ideas on how to save money and the planet, and have fun in the process, in All You Need Is Less. Learn how to create and not just consume! This guide to the guilt-free green life is packed with dozens of DIY ideas for shampoo and eco-cleaners, worm compost the garden will love, yummy recipes and even homemade holiday gifts and décor. All You Need is Less is also available as an audiobook.