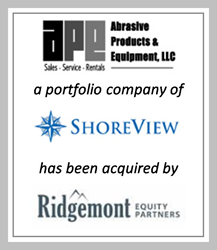 Charlotte, NC (PRWEB) September 10, 2014
BlackArch Partners is pleased to announce the sale of Abrasive Products & Equipment, LLC ("APE"), a portfolio company of ShoreView Industries, to Ridgemont Equity Partners. APE, headquartered in Houston, TX, is a leading, value-added specialty supplier of safety, surface preparation and environmental products and solutions.
BlackArch was retained by ShoreView Industries and management to serve as their financial advisor.
Jeff Mudge, Managing Director of ShoreView Industries, commented, "The board of Abrasive Products & Equipment chose BlackArch as its strategic advisor because of their commitment to the executive team to identify the right partner for the business while seeking to maximize return on investment for the company's owners. BlackArch delivered on both of those commitments. But they also provided senior-level attention from pitch to close, perceptive strategic counsel and truly world-class process management."
"Our experience with BlackArch brought far-reaching benefits above and beyond the transaction itself. BlackArch helped our management team better recognize our true value and how best to present our company to prospective buyers as well as our clients," said Kevin Willis, CEO of Abrasive Products & Equipment. "BlackArch's detailed approach not only helped our company maximize our value, but also helped our team achieve a more realistic perspective of who we are and what we can achieve as a leader in our industry. The net result was that our company was able to gain a solid business partner that will allow us to meet our long-term goals as a company."
About Abrasive Products & Equipment
APE (http://www.apeblastandpaint.com), founded in 2004, operates 14 distribution centers in the Gulf Coast and Northeastern United States. The Company serves industrial contractors and facility owner/operators across a variety of markets, including petrochemical and refinery, offshore, shipyard, pipeline, waterjet cutting and general manufacturing.
About ShoreView Industries
ShoreView Industries, based in Minneapolis, MN, manages $900 million in private equity funds. ShoreView invests in established, middle-market companies with operations in North America, across a wide range of industries. ShoreView structures a variety of acquisition, recapitalization and build-up transactions, typically in businesses with revenues ranging between $20 million and $300 million.
About BlackArch Partners
BlackArch Partners is a leading middle-market investment bank offering a full spectrum of advisory services to financial sponsors, private companies and diversified corporations BlackArch addresses the needs of entrepreneurs, founders and shareholders of private companies with specialized services that include M&A advisory, strategic advisory and private capital solutions. Headquartered in Charlotte, NC, with offices in Houston, TX, BlackArch features a total of 12 industry-focused practices that cover all sectors of interest to middle-market investors; BlackArch professionals have closed over 300 transactions in 16 countries on four continents. Please visit our website, http://www.blackarchpartners.com, for more details.
Securities offered through BlackArch Securities LLC. Member FINRA and SIPC. Testimonials may not be representative of the experience of all clients. Testimonials are not a guarantee of future performance or success.