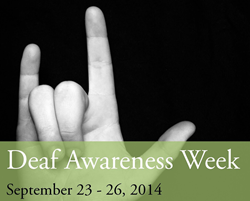 Baltimore, MD (PRWEB) September 13, 2014
Deaf Awareness falls on the last full week in September. Each year The Hearing and Speech Agency hosts a week-long celebration with events and activities. All events use American Sign Language (ASL) as the main form of communication. Voice interpretation will be provided upon request.
This year, the schedule includes an ASL film night, a yoga class, a financial seminar and a sign language class that is open to the entire community.
The schedule is as follows:
BALTIMORE'S BIGGEST ASL CLASS
TUESDAY, SEPTEMBER 23 | 6:00 P.M. - 8:00 P.M.
Lessons on Deaf culture, history and awareness. Join us as we come together in an ASL-rich celebration of communication!
ASL FILM: THE GIFT
WEDNESDAY, SEPTEMBER 24 | 6:00 P.M. - 8:00 P.M.
She was a deaf dancer. He was a hearing musician. Watch what happens when they fall in love. Alexander Genievsky, the film's director, will be in attendance. Film presented in ASL. English captions provided.
GET FIT WHERE YOU SIT! SEATED YOGA
THURSDAY, SEPTEMBER 25 | 10:00 A.M. - 11:00 A.M.
Facilitator Barbara Eger-Platt is passionate about inspiring and empowering students to discover their inner balance. Her remarkable communication style (in a language that resonates with Deaf students) brings enthusiasm and clarity that connects deaf students' ability to see and feel inner beauty. She is certified with Yoga Alliance and teaches Deaf Yoga classes at The Yoga Center of Columbia in Columbia, Maryland.
MONEY-SAVING TIPS
THURSDAY, SEPTEMBER 25 | 2:00 P.M. - 3:00 P.M.
Ethelette Ennis, founder of Baltimore Silent Agers, will facilitate a workshop on ways to make your money go further. Ethelette will help people recognize their priorities, make sure their budgets work and give money-saving tips.
All events are free, but registration is required. For more information about Deaf Awareness Week, please visit http://www.hasa.org.
ABOUT THE HEARING AND SPEECH AGENCY
The Hearing and Speech Agency provides professional services for people who have speech or language disorders, autism, deafness or communication disabilities. Last year, more than 4,000 families throughout Greater Baltimore benefited from HASA's services, which range from speech therapy and audiology to special education programming and American Sign Language interpreting for the deaf and hard of hearing.