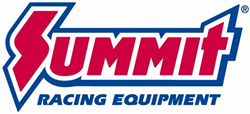 Tallmadge, OH (PRWEB) September 12, 2014
Summit Racing's new Gold Series stud-mount rockers are a full roller design with needle-bearing fulcrums and roller tips to reduce friction and stabilize valve time. That helps free up extra horsepower.
The Gold Series rocker arms also have lightweight CNC-machined aluminum bodies, which helps reduce valvetrain weight and improve the engine's ability to rev quickly. The low-profile design means they fit under many stock-style valve covers, too. Polylocks are included.
Applications

Small block Chevy, 1.5 ratio, 1.6 ratio, and 1.5/1.6 ratio
Big block Chevy, 1.7 ratio
Small block Ford, 1.6 ratio
SEE SUMMIT RACING'S GOLD SERIES ROLLER ROCKER ARMS
Summit Racing Equipment
http://www.SummitRacing.com
1-800-230-303