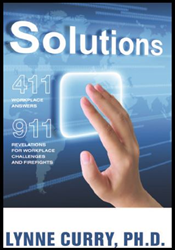 Today's choices create your future as well as your present. Who and what will you do and be? - Lynne Curry
(PRWEB) September 12, 2014
Dr. Lynne Curry CEO of The Growth Company Inc. speaks about her new book titled Solutions. Dr. Curry states Solutions offers strategies, insights, answers and revelations.
Some are simple, others innovative and surprising— and all ones that can change anyone's work life for the better. Solutions offers sixty of the best real-life dramas- and enlightening answers from Dr. Curry's three decade weekly ran newspaper column in Alaska. Solutions was written to serve as a personal workplace 411 information resource or a 911 emergency hotline for workplace issues.
When Dr. Curry was asked about the audience she had in mind while writing the book she stated: People who face problems or challenges that do not solve easy, those who want their work life to go from good to great, those who desire excellence more than what comes easily, those who need answers now, those who need help recognizing blind spots and seeing past them, those who feel stuck and want to move forward, and those who need answers now because they are workplace firefighters.
Dr. Lynne Curry has been exceeding client expectations since 1978 as the President of The Growth Company, Inc., a consulting, training, human resources and organizational strategy firm. Curry has provided more than 55,000 consulting projects to more than 3,700 organizations worldwide. Her clients attest to her professionalism and results-orientation. In addition to her doctorate, Curry has a Senior Professional in Human Resources certificate. Curry has authored two other books, Managing Equally & Legally (McFarland & Company) and Won By One.