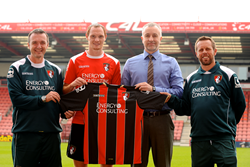 We allow millions of people to be better connected. However, as enablers and providers of connectivity, C4L also hold responsibility to ensure the internet is used safely and correctly by all
Dorset (PRWEB UK) 12 September 2014
The 40-week scheme, which is sponsored by Colocation, Connectivity, Cloud and Communications provider C4L, includes a combination of classroom and outdoor activities delivered by the Cherries' Community Sports Trust coaches to help enforce the message.
Heading into its second year, MacDonald will be the face of the initiative once it starts again in September.
"I'm really looking forward to getting started on the Connect with Care project and visiting the children at local schools," he said.
"I've heard good things about what the project achieved last season and I'm proud to be associated with it.
"Being safe on the internet is something everyone should be aware of and I take it into consideration when using my social media accounts because, as footballers, we are role models to a lot of young people."
Simon Mewett, CEO of C4L, said, "Being a successful internet service provider means that a lot of the UK's internet runs on our network.
"We are proud of this achievement because it allows millions of people to be better connected. However, as enablers and providers of connectivity, C4L also hold responsibility to ensure the internet is used safely and correctly by all.
"With that in mind, we're incredibly proud to be working in partnership with AFC Bournemouth to provide Connect with Care.
"As a father myself, I hold high regard for teaching children how to be safe online, and commend the club and Community Sports Trust for delivering such a great scheme."
ENDS
About C4L
C4L is a Colocation, Connectivity, Cloud and Communications provider headquartered on the South Coast of the UK. They own and operate a high specification data-centre in Bournemouth, as well as providing colocation services to over 100 UK data centres and more than 300 globally. C4L's coreTX network is one of the UK's largest Data Centre networks, the multi Tbps, high performance MPLS network links data centres across the UK, using a diverse fibre optic backbone and DWDM technology. It's VMWare and IAAS cloud platforms further leverage coreTX and the wide Data Centre footprint to offer industry leading Cloud performance, an approach replicated in delivering VoIP services to its wholesale Communications partners.
C4L clients include government agencies, FTSE 250 companies, international financial institutions, system integrators, top 100 VARs, resellers and many of the UK's network carriers. Our entire business is committed to customer satisfaction and quality of service and has achieved certifications such as ISO9001 & 27001 to demonstrate this.
For more information visit http://www.C4L.co.uk/pr, or Tel: Jade Yarham +44 (0)8000 470 481 Ext 736