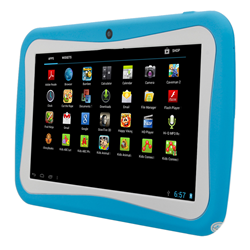 Oaktree Business Park, Leeds (PRWEB UK) 15 September 2014
Just this morning, the Best Tablet Company announced that they would be making a series of further reductions to their line of affordable 7' tablets, dropping prices on a number of models by up to 50% in order to provide pupils with more cost-effective access to the educational apps, videos and websites that they need to supplement their learning, and enhance their academic performance.
The main products affected by this back to school sale are the 7' Micro Tablet, and the 7' Kids Tablet respectively, both of which benefit from:

Unrestricted access to Google's play store, which features thousands of apps and games,
A backlit LCD screen that's perfect for watching high-quality videos
A powerful processor, capable of running the latest games and apps
Full WiFi capabilities
4/8 Gb of storage space (expandable up to 32Gb)
Full support for a variety of early and advanced learning programs that are perfect for honing revision skills, or inspiring interest in educational development
Both of these products are also available in a variety of colours, and the 7' Kids Tablet even comes with a protective silicone casing that's capable of withstanding the overwhelming majority of accidental damage.
Because of their wide feature set, simplicity and value, these tablets are ideally suited to supplying students and young learners with mobile and accessible educational support at a reasonable price, making them perfect for anyone who's keen to excel by supplementing class or school work with additional learning support.
Using them, young children and experienced learners alike will be able to access an incredible range of educational tools where (and when) ever they like – irrespective of whether they're on the bus, in the bedroom or relaxing in the garden after school.
As HP's Vice President recently noted at a press conference, customers have made it abundantly clear that they need devices that can 'better adapt to work and play the way that they do' and the Best Tablet Company feel that these price-drops will only help to put power back into the consumer's hands by providing them with sleek and sophisticated tablets that offer a full range of educational support at reasonable prices
Pricing and Availability
The Best Tablet Company's sale means that the 7' Micro Tablet is now just £33.99 (down from £49.99)
And the 7' Kids Tablet is now just £45.99 (down from £69.99)
Both products can be purchased from the Best Tablet Company's online store, which can be found at http://www.besttabletcompany.co.uk
About The Best Tablet Company
The Best Tablet Company specializes in supplying consumers with reasonably priced tablet computers that have the same high specifications that you'd find in more expensive high-street brands.
The company is based in the North of England, and has over 20 years of combined experience in the computer industry, making them ideally placed to find and sell the highest quality products at the most affordable prices.
For more information, please visit their website, or call on 0871 941 8100.