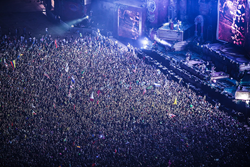 Our mats help facilitate installation of the stages and roadways throughout the venue but also provide access roads for essential service vehicles.
Chattahoochee Hills, Georgia (PRWEB) September 15, 2014
On September 26-28, 2014, Mabey Inc. will let people walk all over them at one of the largest electronic music concerts in the world with more than 150,000 attendees from abroad, spanning 500 acres of farmland in Georgia with over 2,200 Mabey Mats leading the way.
The venue is nothing short of spectacular, with 80 cargo containers shipped from Europe to create the villages and scenes for TomorrowWorld, complete with lasers, pyrotechnics, and design sets decorated in the theme of this year's concert, "The Arising of Life." The life-sized volcano will erupt at intervals during the concert on a 180 x 90 foot backdrop to the main stage. Mabey will be underfoot every step of the way. Mabey Mats will be installed in front of the main stage and will serve as the dance floor and pedestrian walkway. Mats will also be used to create roadways throughout the venue. Mabey Mats are constructed of one-piece composite decking that securely interlock and provide a seamless roadway and walkway.
Mabey's National Account Manager, Joe Atkinson, comments on the scope of this event.
"This is quite an impressive event. It's more than just a concert — it's a huge operation with vendors, concessions, showers, and a vast field of tents and overnight accommodations! It's a mini town with its own infrastructure that is vital to the safety of all its participants. Our mats help facilitate installation of the stages and roadways throughout the venue but also provide access roads for essential service vehicles."
Mabey's professional matting crews installed 2,200 mats in record time to meet deadlines and to protect the farmland against the impact of heavy equipment used to install the massive stage and construction throughout the festival. Mabey Mats are environmentally friendly and allow the ground beneath to breathe to protect the grass and other vegetation, promoting quick recovery. After the event, when all the stages and temporary facilities have been dismantled and removed, the mats will be removed and the farmland will return to its previous pristine status at the country estate and equestrian center.
The TomorrowWorld 2014 concert is a spin-off from Belgium's Tomorrowland festival, which originated in 2005, and this year marks the second international edition of the festival. Last year, Mabey installed 1,800 mats for the inaugural event and were credited with helping organizers stay on schedule after heavy rain threatened to stop production. Equipment-laden trucks were getting bogged down in mud but work pads made of Mabey Mats kept things moving.
Mabey Mats are eco-friendly and are versatile in any site condition. They do not absorb water or containments and do not splinter like wood mats. Their interlocking system keeps the mats in place and their antiskid surface prevents equipment and crew from slipping. To find out more about Mabey Mats, please visit http://www.mabey.com/mats.
###
For over 25 years, Mabey Inc. has been a leader in engineered solutions for the construction rental industry, including structural and excavation shoring, bridging, and temporary roadways. Headquartered near Baltimore, MD, Mabey Inc. has depot locations across the country. In addition to construction equipment, Mabey Inc. provides professional engineering services, on-site technical advisors and hands-on safety training.