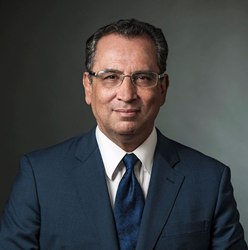 Jim's knowledge of California's transportation market and big-project experience is a tremendous fit for infrastructure clients who expect the highest levels of expertise from HNTB," said Phil Petrocelli, president HNTB West Division
LOS ANGELES (PRWEB) September 12, 2014
James de la Loza joined HNTB Corporation as regional business development leader and vice president in the West Division. He brings 32 years of experience in planning and implementation of transportation projects in California and across the United States, including a decade-long tenure as chief planning officer for the Los Angeles County Metropolitan Transportation Authority.
De la Loza is based in HNTB's Los Angeles office. He will work closely with division management on pursuing opportunities for long-term expansion of the firm's California market with railroad, transit, highway, bridge, tunnel, toll, aviation, construction management and other infrastructure clients.
"Jim's knowledge of California's transportation market and big-project experience is a tremendous fit for infrastructure clients who expect the highest levels of expertise from HNTB," said Phil Petrocelli, president HNTB West Division. "His prior experience confirms his reputation as a transportation leader and demonstrates his ability to make important contacts in the industry, bring solutions and win major projects."
Prior to joining HNTB, de la Loza served with a consulting firm as transportation manager for California business development. Also, in his previous role as chief planning officer for Los Angeles County Metropolitan Transportation Authority, he oversaw an annual budget of $800 million and up to $3 billion in regional capital improvement projects. At Metro, his responsibilities included executive oversight and coordination of all plans, policies, funding programs and corridor planning/environmental impact analyses for the agency's transportation program. During de la Loza's tenure as chief planning officer, Metro more than doubled its rail system, implemented highway HOV lanes and the Metro Rapid Bus, and build the Metro Orange line (bus rapid transit).
De la Loza earned a master's degree in architecture and urban design from the University of California, Los Angeles. He also holds a bachelor's degree in environmental design form California State University, Long Beach.
HNTB is currently working on several multimillion-dollar infrastructure projects in California, including the Presidio Parkway Doyle Drive replacement; the Bay Area Rapid Transit Warm Springs Extension Project, track station and systems contract; the Alameda Corridor-East San Gabriel Trench grade separation; the Interstate 405 Sepulveda Pass Improvements Project; the BART Earthquake Safety Program; the Caltrain Jerrold Avenue Bridge Replacement; Sixth Street Viaduct Replacement; Doran Street grade separation; and the Kraemer Boulevard railroad grade separation project.
HNTB Corporation is an employee-owned infrastructure solutions firm serving public and private owners and contractors. HNTB's work in California dates back to its founding in 1914. Today HNTB continues to grow in size and service offerings to clients in California from seven office locations, currently employing more than 350 full-time professionals. Now celebrating a century of service, HNTB understands the life cycle of infrastructure and addresses clients' most complex technical, financial and operational challenges. Professionals nationwide deliver a full range of infrastructure-related services, including award-winning planning, design, program management and construction management. For more information, visit http://www.hntb.com.