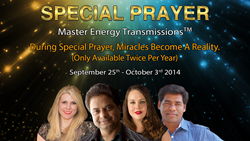 Las Vegas, Nevada (PRWEB) September 15, 2014
Trivedi Master Wellness™ is celebrating 9 days of Special Prayer Master Energy Transmissions™ from September 25 – October 03, 2014. During this auspicious time, that only presents itself twice each year Mahendra Trivedi and Trivedi Master™ Alice Branton will be able to harness the full extent of the Divine Energy allowing them to bestow upon people the most potent Master Energy Transmissions™ as a priceless gift.
The 9 days of Special Prayer Master Energy Transmissions™ will conclude with an exclusive privilege to attend a LIVE Webcast on October 4th, 2014, where people can immerse themselves into a thought provoking discourse with Mahendra Trivedi and Trivedi Master™ Alice Branton.
During this insightful event, participants will experience the true benevolence and dedication Mahendra Trivedi has for the expansion and understanding of consciousness and discover how The Trivedi Effect® can optimize their potential and endow unending abundance & ceaseless prosperity in their lives.
The Trivedi Effect® is a well-known process of transforming living organisms and non-living materials to perform at their highest level. Mahendra Trivedi and the three Trivedi Masters™ possess this amazing ability to transmit energy to anybody and anywhere on the globe through the power of their thoughts which significantly improves each individual's ability to listen to his or her own inner guidance system.
The Energy Transmissions of Mahendra Trivedi known as The Trivedi Effect® have not just created abundance in the lives of tens of thousands of people, they have also transformed plants, animals, microbes and even non-living materials and Mahendra Trivedi has the scientific evidence to prove it.
The scientific communities throughout the world were astounded by the amazing and unbelievable impact of The Trivedi Effect® and were always doubtful about its abilities and thought it to be the result of the placebo effect. In order to prove the abilities of The Trivedi Effect®, Mahendra Trivedi carried out a number of scientific experiments in collaboration with some of the most eminent scientists and top research institutes of the world.
If The Trivedi Effect® can do so much for so many, it can certainly make a difference in the lives of those who will experience the Energy Transmissions from Mahendra Trivedi. People can participate in this amazing 9 days of Special Prayer Master Energy Transmissions™ right from the comfort of their homes. Receive up to Eighteen Powerful Master Energy Transmissions™ during your sleep, which will transport you to a realm of Optimal Consciousness & Holistic Abundance!
People who want to participate in this valuable celebration, and those who want to register themselves for various Master Energy Transmissions™, can visit http://www.trivedimasterwellness.com/special-prayer/index.html/ .
About Trivedi Master Wellness™: Mahendra Trivedi has the unique ability to create The Trivedi Effect® and has the scientific evidence to prove it. This phenomenon of Energy Transmission has been tested in over 4,000 experiments conducted using stringent methodologies and the most advanced technologies available on this planet. Many results have been published in leading international, peer-reviewed, scientific journals. Each experiment shows significant transformation with consistent results. The resulting changes show that this energy has the remarkable ability to improve the functionality and potential of an individual. Trivedi Master Wellness™ established in 2011 is intended to provide the benefits of The Trivedi Effect® to optimize human potential throughout the world.
Websites: http://www.trivedimasterwellness.com/ , http://www.trivedieffect.com/ , http://trivedifoundation.org/, http://trivediproducts.com/
Call us on: +1-877-493-4092
For inquiries please mail us at: cs(at)trivedieffect(dot)com