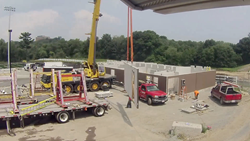 ...I'd say this project installation went about as smooth as it could," said Frank Dimando. "A project this size says a lot about what Easi-Set and Easi-Span buildings can accomplish.
Danvers, MA (PRWEB) September 17, 2014
Shea Concrete Products recently manufactured and installed its largest Easi-Span precast building, a 40'x80'x10' locker room, for Essex Agricultural and Technical High School. Simultaneously, a 24'x62'x9' Easi-Set restroom and concession building was also constructed on the same site. Both structures are to be used for the school's athletic program.
Shea Concrete, the exclusive Easi-Set licensee for New England, received the basic floor plan from Boston-based architect, Design Partnership of Cambridge. The architect weighed the options for other applications such as wood or masonry, but felt precast concrete was the best solution due to its cost effectiveness and ease of installation.
"It's a big deal because this project was the biggest Easi-Span building we've ever produced," said Shea Concrete Designer/Estimator Mark Finochiaro. "We typically ship precast buildings all in one piece, but this one was put together on site."
Finochiaro was in charge of the design for both precast concrete buildings, but it also marked his first attempt at designing an Easi-Span structure. The Easi-Span featured a poured-in-place concrete floor with customized designs for wall panels, wall connections, floor penetrations and doorway dimensions. Precast concrete manufacturer Smith-Midland, provided eight Clear-Span roof sections for the project.
The main challenge for Finochiaro centered around the six-module Easi-Set structure. Figuring out where the crane rigging system could be implemented across the modules without disrupting the integrity of the walls was an obstacle not originally anticipated. The inserts had to be aligned and coordinated in spots that kept each module balanced during the lift.
"At the very start, on the Easi-Set building, we had to figure out a way to have no crane rigging that stuck out at the bottom," Finochiaro explained. "So we implemented a crane rigging system to be located on top of the walls."
"You can always look back and say you could have done some things differently, but I'd say this project installation went about as smooth as it could," said Shea Concrete's Easi-Set Sales Manager Frank Dimando. "A project this size says a lot about what Easi-Set and Easi-Span buildings can accomplish."
An Easi-Set licensee for the past eight years, Shea Concrete primarily manufactures the precast buildings out of its Rochester, MA plant. Each structure features a fabricated, patented, post-tensioning system in the roof and floor panels. This guarantees zero water migration into the precast building along the bottom of all wall panels. Shea Concrete also offers Easi-Set customers flexibility when it comes to aesthetically-pleasing features. A number of colors are available, and its wide variety of finishes will fit nicely with any surrounding environment.
"To complete a project this big says a lot about our engineers and the precasters putting the forms together," said Shea Concrete Manager Greg Stratis. "It's exciting to see an Easi-Span building of that size be installed as smoothly as it was. These precast buildings carry so much flexibility and can cover so many applications, so it's always great to see what comes next for any given project."
"It's great to say I had a hand in something like this for a trade school," said Finochiaro. "It's a good investment for them and it's a way to give back to student athletes and their families and coaches."
About Shea Concrete Products:
Family-owned and operated since 1949, Shea Concrete Products is one of New England's largest suppliers of precast concrete products, serving both commercial and residential industries. As a National Precast Concrete Association (NPCA)-certified company, Shea Concrete's Rochester, MA production plant specializes in Easi-Set modular buildings.
Shea Concrete produces environmentally-safe concrete products, including bulkheads side entry and standard steps. Serving all of New England, Shea Concrete is headquartered in Wilmington, MA, with additional locations in Rochester, MA, and Amesbury, MA.