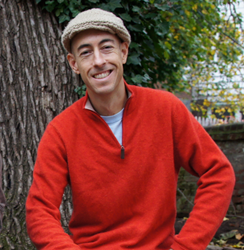 Charlottesville, VA (PRWEB) September 19, 2014
Michael Judd, who created Ecologia, Edible & Ecological Designs, has designed edible landscapes for individuals such as Top Chef finalist Bryan Voltaggio and others. He has put his experience and expertise in a new book. Edible Landscaping with a Permaculture Twist, which is a how-to manual for the budding gardener and experienced green thumb alike, full of creative and easy-to-follow designs that guide you to having your yard and eating it, too. Judd will be speaking about his book at a program sponsored by the Journey Through Hallowed Ground Partnership and Piedmont Environmental Council on September 25th. Judd's presentation will begin at 6:30 p.m. at CitySpace in downtown Charlottesville. Beginning at 6:00pm, local gardening, landscaping and permaculture groups will be in attendance with information about their work and services.
Growing up between northern England and the Appalachian mountains of Maryland, Michael Judd's roots have been branched with diverse landscapes and fertile culture. Mix in a decade of running a grassroots non-profit in rural Latin America, heading up an arid lands research project in the dessert of SE Spain, and extensive study at the New York Botanic Garden you end up with an eclectic designer that melds form, function, and productivity seamlessly.
Judd's start with whole system design began with an opportunity to live with the last of the Lacondon Mayans in southern Mexico along the Guatemalan border. Here he experienced the ancient design practices of the Mayans that ingeniously mimic nature's patterns to create functional landscapes. About the same time he discovered a parallel design system coming out of Australia, "permaculture," that applies similar landscape use of the Mayans but adapted to the modern world. Combining these designs in 2001 he launched an effort called Project Bona Fide. Project Bona Fide started on the volcanic slopes of Ometepe Island in Nicaragua's southwest corner just above Costa Rica. The project focus has been to create food security through food forest design that maximizes land use for a diversity of harvests. Today in 2014, thirteen years into the projects inception, 26 acres have grown into a haven of production and examples of linked design systems that mimic nature's functions while meeting the needs of local economies and ecologies.
As the project stabilized, Judd began to split his time in a parallel universe on the island of Manhattan where he studied the latest in modern design at the New York Botanic Garden. Coupling whole system design learned in Latin America with the form and art of contemporary design, Judd created Ecologia, Edible & Ecological Designs. He won his first commission from Top Chef finalist Bryan Voltaggio to design an edible courtyard at Voltaggio's flagship restaurant "Volt," located in Frederick, Maryland.
With the help of more than 200 beautiful color photos and drawings, the permaculture designer and avid grower takes the book's reader on a step-by-step process to transform a sea of grass into a flourishing edible landscape that pleases the eye as well as the taste buds. With personality and humor, he translates the complexities of permaculture design into simple self-build projects, providing full details on the evolving design process, material identification, and costs.
Copies of the book will be available for purchase and signing after the program. However, pre-registration is required as limited space is available. To register, or for more information, visit http://www.HallowedGround.org.
###
About the Journey Through Hallowed Ground Partnership
The Journey Through Hallowed Ground Partnership is a nonprofit organization that has successfully created the Journey Through Hallowed Ground National Heritage Area and the Journey Through Hallowed Ground National Scenic Byway, in addition to its award winning tourism and educational programs to engage students, teachers, visitors and citizens in celebrating the unparalleled cultural, historic, and natural landscape within the swath of land from Thomas Jefferson's Monticello to Gettysburg, Pa. Known as the region Where America Happened®, this region contains more history than any other region in the nation and includes: World Heritage sites, over 10,000 sites on the National Register of Historic Places, 49 National Historic Districts, nine Presidential homes, 13 National Park units, hundreds of African American and Native American heritage sites, 30 Historic Main Street communities, sites from the Revolutionary War, French-Indian War, War of 1812 and the largest single collection of Civil War sites in the nation.
About the Piedmont Environmental Council
The Piedmont Environmental Council is a 501(c)3 nonprofit conservation organization and land trust that has been working since 1972 to safeguard the landscape, communities and heritage of Virginia's northern Piedmont. PEC launched Virginia's first Buy Fresh Buy Local campaign in 2006 with the goal of supporting local farmers, productive agricultural lands, and rural economies by helping consumers easily find and purchase locally produced foods. Our most recent project, Farmer-Chef Express, works to expand local food markets, by connecting buyers and sellers of local food. Visit BuyLocalVirginia.org for more information about Buy Fresh Buy Local and Farmer-Chef Express!