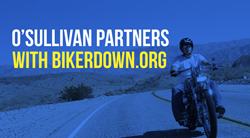 Scott O'Sullivan decided to partner with BikerDown.org because the nonprofit organization "is seriously concerned about helping bikers and making sure they are properly insured."
Denver, CO (PRWEB) September 16, 2014
The O'Sullivan Law Firm today announced that they are partnering with BikerDown.org, a nonprofit organization that supports injured motorcyclists and their families by offering discounted insurance, roadside assistance and emotional support after a motorcycle accident.
All members of BikerDown.org receive Aflac insurance for $35 a month. Coverage includes roadside assistance and other services in the event of an accident. As a result of the O'Sullivan Law Firm's partnership with BikerDown.org, Scott O'Sullivan will be offering a $10 scholarship to two motorcyclists each month, which will bring the monthly membership fee down to $25.
In addition to the scholarship, Scott O'Sullivan will be joining BikerDown.org's board of directors. In this role, O'Sullivan will be assisting with all marketing and fundraising for the endowment.
Scott O'Sullivan decided to partner with BikerDown.org because the nonprofit organization "is seriously concerned about helping bikers and making sure they are properly insured," he said.
O'Sullivan added, "What happens if you are permanently hurt or even temporarily injured? It doesn't matter if it's your fault. Even something as simple as road rash can take days or weeks to heal and, depending on your line of work, that could be devastating to your financial situation. You need disability insurance."
Laurie Easton founded BikerDown.org in 2011 after she witnessed an accident that involved several of her fellow motorcycle riders. One of the riders lost her job due to her injuries, and she didn't have health insurance. Easton didn't want that same fate to happen to other fellow motorcyclists. BikerDown.org was born out of Easton's desire not to see that happen again.
In addition to insurance and roadside assistance, members of BikerDown.org also receive help with medical equipment, emotional support for family members of injured or killed riders, and financial advice to help victims keep creditors at bay while they recover from their injuries.
About The O'Sullivan Law Firm
Scott O'Sullivan is former insurance company attorney, but he left the insurance industry to start The O'Sullivan Law Firm in Denver after seeing how poorly insurance companies treated the very people they were supposed to be helping. Today, Scott O'Sullivan is a leading Denver personal injury attorney. The O'Sullivan Law Firm's team of Denver personal injury lawyers takes on personal injury cases of all types: car accidents, DUI accidents, motorcycle accidents, loss of limb and wrongful death, among others.
For more information, visit http://osullivan-law-firm.com or call 303-388-5304.