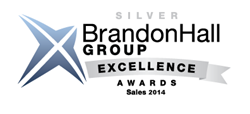 It's a real pleasure to work with such great companies whose employees are so eager to utilise their Academies and learn new skills
(PRWEB UK) 18 September 2014
Learning Technologies company Growth Engineering, in association with clients including Brakes Group, Bensons for Beds and Azlan Tech Data, has beaten hundreds of others to win a Silver and two Bronze Brandon Hall Excellence awards.
The entries were evaluated by an international panel of independent industry experts based on standards of performance, measurable business results and levels of innovation.
The Silver award for Best Sales Training Program for Extended Enterprise reflects the improvements in sales figures that Growth Engineering and Azlan (the Enterprise Specialist Distribution division of Tech Data, wholesale distributor of technology products) generated through Tech Data Academy. One individual who received sales training delivered an increase of 678% in sales across six different customer accounts – a truly remarkable feat – and proactive users on the Academy outperformed inactive users by 75% in terms of sales growth.
Growth Engineering was also awarded Bronze for Best in Learning Technology Implementations in association with Brakes for the Brakes Change Academy, which increased employee knowledge of systems change by 90%.
Bronze in the Best Results of a Learning Program category was awarded to Growth Engineering and Bensons for Beds, Britain's largest bed retailer with over 270 stores and 1,800 employees, for Bensons Academy. The Academy boosted employee engagement, reduced attrition rates from 50% to 23% – saving the company £1,350,000 a year – and reduced training costs by £500,000.
Juliette Denny, Growth Engineering Managing Director, said: "Wow! Growth Engineering are overjoyed to receive these Brandon Hall Excellence awards in association with our lovely clients. It's a real pleasure to work with such great companies whose employees are so eager to utilise their Academies and learn new skills."
But the accolades don't stop there: Growth Engineering has been highlighted on eLearning Industry's 'Top Learning Portals Watch List' and has also been shortlisted for five E-Learning Awards:

Best e-learning project: UK private sector (in association with Bensons for Beds)
Best online distance learning program (in association with Azlan Tech Data)
Best Learning Management System implementation (in association with Brakes)
eLearning development company of the year
e-learning age outstanding learning organisation award
The results of these awards will be announced at the E-Learning Awards in November. In the meantime, those who want to find out more about Growth Engineering's award-winning Learning Management System will be interested to know that the company will be exhibiting at the World of Learning Conference and Exhibition in Birmingham on 30th September and 1st October 2014. Visitors can meet the Growth Engineering team on Stand E80 and try out the Academy Platform LMS in the Test Drive Area to gain a special prize. Click here to book a meeting with Growth Engineering.
About Brandon Hall Group
Brandon Hall Group is a HCM research and advisory services firm that provides insights around key performance areas, including Learning and Development, Talent Management, Leadership Development, Talent Acquisition and Workforce Management.
With more than 10,000 clients globally and 20 years of delivering world-class research and advisory services, Brandon Hall Group is the most well-known and established research organisation in the performance improvement industry. The Brandon Hall Excellence Awards have an international reach and provide exposure for some of the most innovative programmes in the online learning industry. Find out more.
About E-Learning Awards
The awards are put on by e.learning age magazine, which is at the heart of the eLearning industry and is the number one resource for learning, development, technology and eLearning.
To find out more about e.learning age and the E-Learning Awards, head to the website.
ABOUT GROWTH ENGINEERING:
Growth Engineering are the arch-enemies of dull online learning. We work towards challenging every preconceived notion of eLearning to establish a new and refreshing experience for learners. We aid and inspire learning by creating innovative learning designs and using modern technologies. Our gamified Academy Platform and game-based learning create all-new levels of engagement and we also offer a library of Ofqual-recognised qualifications to help our learners pump rocket fuel into their professional development. In short, we want to make your learning journey as easy and rewarding as possible.
CONTACT: For more details, please email: harry.cloke(at)growthengineering(dot)co(dot)uk or phone our offices on 01753 840 331. Website address: http://www.growthengineering.co.uk