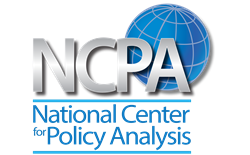 Eileen Resnik was and will be the cornerstone of not just our development efforts, but will greatly expand our policy outreach and communications to Americans who are hungry for practical, non-partisan public policy ideas and research
Dallas, TX (PRWEB) September 16, 2014
The National Center for Policy Analysis (NCPA) is pleased to announce that NCPA-veteran Eileen Resnik is returning to the organization to the position of Executive Vice President of Development.
"At NCPA, we feel like a great sports team that has re-acquired a star who took free agency two years ago. Eileen Resnik was and will be the cornerstone of not just our development efforts, but will greatly expand our policy outreach and communications to Americans who are hungry for practical, non-partisan public policy ideas and research," said Dennis McCuistion, interim CEO and President of the NCPA. "Welcome home, Eileen."
Resnik most recently held the position of Director of Major Gifts and Planned Giving at Trinity Christian Academy in Addison. Prior to that, she was at the NCPA for more than five years, heading the Development department when she left to take the position at TCA.
"The NCPA has an outstanding history of innovative solutions to public policy problems, and I'm delighted to be returning to help move the NCPA forward," said Resnik.
Eileen's previous experience included serving as Director of the Murphy Center for Entrepreneurship at UNT where she also was an executive lecturer in the department of management and a successful stint in sales for a Fortune 100 company.
Resnik added, "I believe that most Americans are more interested in solving the problems of the country rather than focusing on political agendas, and I know the NCPA is providing the reasoned answers that are being sought by the vast majority of voters. I look forward to sharing those ideas with our donors, the general public, media and legislators."
The National Center for Policy Analysis (NCPA) is a nonprofit, nonpartisan public policy research organization, established in 1983. We bring together the best and brightest minds to tackle the country's most difficult public policy problems — in health care, taxes, retirement, education, energy and the environment. Visit our website today for more information.