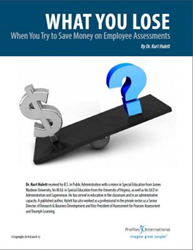 Waco, TX (PRWEB) September 17, 2014
Talent management solutions provider, Profiles International, has made available a new white paper by Dr. Kurt Hulett titled, "What You Lose When You Try to Save Money on Employee Assessments."
"This white paper succinctly outlines the various hidden costs companies face when they try to save money by cutting assessments from their corporate budget," said Michael Wilk, VP of corporate marketing at Profiles International. "If you're considering striking assessments to save on your bottom-line costs, I recommend you read this first."
Did you know that the cost of hiring the wrong manager can cost anywhere from 15 to 27 times their base salary? Ultimately, it all comes down to opportunity cost. By reading Dr. Hulett's white paper, you will learn the costs of cutting assessments from your budget, which include:
-Hiring the Wrong Person
-Not Finding the "Diamond in the Rough"
-Higher Search and Interview Costs
-Looking Out-of-Touch
Download "What You Lose When You Try to Save Money on Employee Assessments" at http://www.profilesinternational.com.
ABOUT DR. KURT HULETT
Dr. Kurt Hulett received his B.S. in Public Administration with a minor in Special Education from James Madison University, his M.Ed. in Special Education from the University of Virginia, as well as his Ed.D in Administration and Supervision. He has served in education in the classroom and in an administrative capacity. A published author, Hulett has also worked as a professional in the private sector as a Senior Director of Research & Business Development and Vice President of Assessment for Pearson Assessment and Triumph Learning.
ABOUT PROFILES INTERNATIONAL
Profiles International is the best source for talent management solutions, with over 20 years' experience and more than 40,000 clients in over 120 countries. Profiles knows how people work and what motivates them. Their data-driven talent management solutions--built on complex behavioral science, yet simple to administer and read--help organizations find the right people, shape them into a winning team, and lead them to their full potential. http://www.profilesinternational.com
###