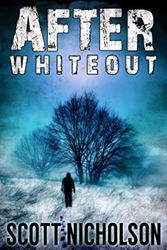 Hollywood, CA (PRWEB) September 17, 2014
Scott Nicholson, grand prize winner in the 1999 Writers of the Future Contest and published in L. Ron Hubbard Presents Writers of the Future Volume XV, releases "After: Whiteout". After seeing his winning story, "The Vampire Shortstop" published in the annual anthology—and so beating out several thousand other contestant, Scott has been routinely releasing stories since his win so many years ago.
Nicholson's latest novel, "After: Whiteout" is the fourth book in the bestselling thriller series. In the harsh winter of a post-apocalyptic landscape, Rachel Wheeler and her companions hole up in an Appalachian compound established by her notorious grandfather.
A rogue military platoon plans to seize the compound and control the small band of survivors. At the same time, violent mutants organize into a tribe that threatens to wipe out the human race. Rachel is caught in the middle as she undergoes mutations herself, driven by an urge to kill those around her while drawn to the mysterious Zapheads.
Fleeing the compound in a snowstorm, she discovers the mutants are more than they appear to be. But will she remain human long enough to use their secrets against them?
Look for the other After books, First Light (After #0), The Shock (After #1), The Echo (After #2), and Milepost 291 (After #3). Also look for the spinoff series, ZAPHEADS, written with Joshua Simcox.
Nicholson's Writers of the Future win was a vampire story, long before the vampire craze struck, and he has done quite well in that genre, although he does write science fiction as well.
Throughout the Contests' 30 year history, over 650 writers and illustrators have been recognized as winners.
The Writers of the Future writing contest was initiated by L. Ron Hubbard in 1983 to provide a means for aspiring writers to get that much-needed break. Due to the success of the Writing Contest, the companion Illustrators of the Future Contest was created in 1988.
The intensive mentoring process has proven very successful. Past winners of the Writing Contest have published over 750 novels, 3,500 short stories and winners of the Illustrating Contest have had their art published in more than 500 books and magazines, with 4,500 illustrations, 350 comics and over 1.3 million art prints.
For more information, go to http://www.writersofthefuture.com or http://www.facebook.com/WritersAndIllustratorsOfTheFuture