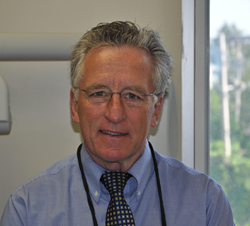 Braintree, MA (PRWEB) September 16, 2014
Dr. Thomas Mone recognizes Self-Improvement Month by striving to raise awareness of the importance of proper oral care through his practice, Mone Periodontics. The doctor offers a number of procedures that assist patients in achieving self-improvement, such as treatment options that address the many adverse effects, cosmetic or otherwise, of gum disease. Patients in need of gum recession treatment in Braintree, MA can experience the benefits of the Pinhole Surgical Technique™, a minimally invasive treatment option that is offered by Dr. Mone at his practice.
The Pinhole Surgical Technique™ is a new and advanced procedure that is appealing due to the fact that it does not require the use of a scalpel or sutures, thereby resulting in immediate cosmetic benefits and a significantly reduced period of recovery. Dr. Mone creates a very small hole through which he uses specialized instruments to reposition the gums. Multiple sites can be treated in a single visit, allowing issues relating to gum recession to be addressed in an effective and efficient manner. This Braintree, MA gum recession treatment offers patients an opportunity for self-improvement through the restoration of their smile and by exploring other opportunities to reverse the adverse effects of gum disease.
While gum recession is most commonly caused by gum disease, there are many other causes for such recession. Many patients experience receding gums due to improper brushing techniques, teeth clenching or grinding habits, and many other varied reasons. Regardless of the cause of gum recession, Dr. Mone is able to use the Pinhole Surgical Technique™ to restore a patient's smile in a minimally invasive way.
Patients seeking gum recession treatment in Braintree, MA that is minimally invasive and able to deliver immediate cosmetic results may wish to turn to Dr. Mone to address their dental care needs. Individuals who are interested in such a treatment should contact the doctor's office to schedule an appointment for a consultation, during which he will be able to explain the procedure in greater detail. Dr. Mone may wish to discuss the needs of each individual patient and determine a proper course of action based on those specific needs.
About the Doctor
Mone Periodontics is a periodontal practice offering personalized dental care for patients in Braintree, MA. The leading periodontist at the practice, Dr. Thomas Mone, graduated from the University of Massachusetts with a bachelor's degree, and then went on to attend the University Of Pennsylvania School Of Dental Medicine and graduated at the top of his class. He completed his periodontal training at Boston University Goldman School of Graduate Dentistry. Dr. Mone is part of one percent of dental professionals providing the LANAP® FDA cleared laser procedure for gum disease and periodontal treatment. To learn more about Mone Periodontics and their dental services, visit their website at http://www.braintreeperio.com and call (781) 348-9925.