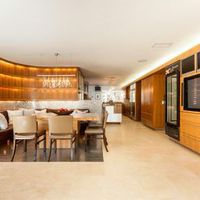 Pompano Beach, FL (PRWEB) September 18, 2014
Jimmy Kimmel's Hollywood Hills home is for sale and featured this week on the Top 10 Homes Spotlight at TopTenRealEstateDeals.com.
"Jimmy Kimmel's Hollywood Home"
"Jimmy Kimmel Live!" might be the new kid on the late night TV schedule, but Jimmy is no rookie in the world of entertainment. At only 46, the former altar boy has been a creative wonder boy since his 1989 debut as a morning radio jock, later moving on to cable and network TV. He is a comedian, producer, television host, screenwriter, actor and musician. He has both hosted and won an Emmy Award for his role in "Win Ben Stein's Money."
Kimmel isn't afraid to go out on a limb, and when he does, it's usually hilarious. After he was recently married to his present wife, he had the chutzpah to have his long-time ex-girlfriend, Sarah Silverman, as a guest on his talk show, who brought a box full of personal items he "left behind" when he "left" her. Who else would think of that or actually do it? His ability and bravery to jump in feet first is what continues to keep viewers riveted to their televisions as he closes in on David Letterman for the #2 slot in the late night TV ratings. As is sometimes the case with the creative mind, there's so much going on in there that it spills over into other surprises, such as the innovations he made to his Hollywood Hills home, where he lived from 2002 to 2009 with Ms Silverman.
When Jimmy purchased his Hollywood Regency-style house, he could see that it would be the perfect home for someone who loves entertaining as much as he does. He was inspired to enhance the best parts of the 1947 original design such as a beautiful wrought iron stair railing, hardwood floors and floor-to-ceiling leaded glass bay window leading to a spectacular view from the living room. With a living area of 3,605 square feet, the basics of the home are five bedrooms, five bathrooms and even a recording studio with sound booth. But when it came to the parts of the house used for active entertaining and cooking, his intelligent, sophisticated and creative style took over. The indoor and outdoor kitchen and gathering venues would appeal to the most persnickety cook and party host.
Inside, the kitchen, dining and media room combination has a Wolf cook top, double Bosch ovens, Subzero refrigerator/freezer, diner-style dessert refrigerator, separate ice maker, soda dispenser and prep sink. The large dining table with booth along the wall and chairs can seat 12, but can be lowered electrically into a coffee table, turning it into a comfortable media room with huge screen on the opposite wall. The stunning glassed-in bar also opens to the outside kitchen, pool and hot tub terrace where one can also find the pizza oven, BBQ, smoker and beer keg dispenser. Did we mention the 12 television sets?
Jimmy Kimmel is selling his sophisticated Hollywood Hills entertainer's dream home that he has owned since 2002. Priced at $2.299 million. The listing agent is Karen Misraje of PartnersTrust in Beverly Hills.
Visit TopTenRealEstateDeals.com for more celebrity, historic, famous and spectacular homes.