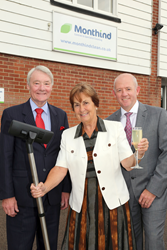 An Essex Scrubber is a testament to Christine's unrelenting enthusiasm for one of life's least glamorous careers
(PRWEB UK) 17 September 2014
The Essex Scrubber – Keeping it Clean, is a tongue in cheek read representative of some of the colourful characters Lexden based Christine found herself dealing with in the early years of the company's formation.
Christine's story unfolds as she embarks on her cleaning career, just after her first husband was diagnosed with a terminal illness. Christine relives the trials and tribulations of her early days as a naive cleaner to becoming head of the East Anglian commercial contract cleaning company, which now employs almost 1000 staff. From winning her first contract with Willis Corroon in Ipswich, Christine and her team went on to look after the premises of some of the region's most prestigious clients including Eastern Electricity, AXA Insurance, British Telecom, Securicor Omega, MSC Shipping and Mecca Leisure.
In 2000, with a turnover of £3.5m, Christine sold the business to Tony Clarke, who is now on the verge of retirement, leaving Monthind Clean in the capable hands of Operations Director, Simon Biggs and Finance Director, Tony Felgate.
From Christine's days at the helm right through to its leaders of today, Monthind Clean has maintained its ethos that 'its strength is its people'. Today, the company continues to provide cleaning services for commercial premises from Kings Lynn to Ipswich and Colchester to the outskirts of the M25 and everything in between. Its team of highly trained cleaning operatives provide East Anglia with some of the most specialist cleans in the industry including specialist window cleaning services, bio-hazard and forensic cleans. In addition, its bespoke cleaning services provide clients with everything they need from basic day to day office cleans to keeping the 40ft glass atrium of the University of East Anglia in Norwich in sparkling condition.
On Christine's book Simon comments, "An Essex Scrubber is a testament to Christine's unrelenting enthusiasm for one of life's least glamorous careers. Through adversity and difficult times she retained her class, dignity and sense of humour, and we are very proud to be continuing the legacy of the company in footsteps that are difficult to follow. We wish Christine the best of luck with the sales of her book and look forward to reading the next two she is in progress of penning."
Proceeds from the sale of the book The Essex Scrubber – Keeping it Clean are being donated to Colchester Rotary to support local charities. The book can be purchased at Red Lion Books in Colchester High Street or by going to http://www.theessexscrubber.co.uk