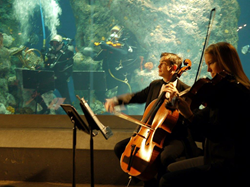 Charleston, S.C. (PRWEB) September 17, 2014
Join the South Carolina Aquarium and the Charleston Symphony Orchestra for Saltwater Sounds, a special oceanic voyage combining beautiful sights and sounds especially for children. Beginning Saturday, September 20 at 9:30 a.m., children will be allowed to get hands-on in a special Instrument Petting Zoo where they can see, hear, and touch instruments with the help of professional musicians. The instrument petting zoo will be followed by a performance by musicians from the Symphony, in front of the Aquarium's largest exhibit, the Great Ocean Tank.
Saltwater Sounds Schedule:

9:30 a.m., 10:30 a.m. and 11:30 a.m.: Instrument Petting Zoo
10 a.m. and 11 a.m.: Symphony performance in front of the Great Ocean Tank
Saltwater Sounds is free with Aquarium admission or membership. Musicians from the Charleston Symphony Orchestra will perform at the Aquarium again January 31, 2015 and April 25, 2015. For more information call (843) 579-8518 or visit scaquarium.org.
For all media inquiries, please contact Kate Dittloff at (843) 579-8660 or kdittloff(at)scaquarium(dot)org
About the South Carolina Aquarium:
The South Carolina Aquarium, Charleston's most visited attraction, features thousands of amazing aquatic animals from river otters and sharks to loggerhead turtles in more than 60 exhibits representing the rich biodiversity of South Carolina from the mountains to the sea. Dedicated to promoting education and conservation, the Aquarium also presents fabulous views of Charleston harbor and interactive exhibits and programs for visitors of all ages.
The South Carolina Aquarium, a 501(c) (3) not-for-profit organization and is open daily from 9 a.m. to 5 p.m. The Aquarium is closed Thanksgiving Day, half day Dec. 24 (open 9 a.m. to 1 p.m.) and Dec. 25. Admission prices are: Toddlers (2 and under) free; Youth (3-12) $17.95; Adults (13+) $24.95. The Aquarium plus the 4-D Theater experience is free for Toddlers, $22.95 for Children, $29.95 for Adults. The 4-D Theater experience only is $6.95 for Children and Adults, and free for Members. For more information call 843-720-1990 or visit scaquarium.org. Memberships are available by calling 843-577-FISH.
###