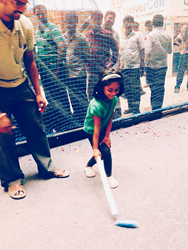 CHENNAI, India (PRWEB) September 17, 2014
Gilli-danda, an ancient sport of India believed to be the source of baseball, cricket and softball, is now available for smart phone play as gooigilli, says mygooi™ founder Jay Namboor. The game is available for IOS (https://itunes.apple.com/us/app/gooigilli/id915250417?ls=1&mt=8) and Android (https://play.google.com/store/apps/details?id=com.appid.gillidanda).
"Gilli-danda is played in India and the countries around it, but it's had a much wider influence," said Namboor. "We wanted to share its gooiness with the rest of the world." See a gilli-danda video at https://www.youtube.com/watch?v=ShDwyQs0eEE
Designed for all ages, the free app has 10 levels of play and its introduction is being accompanied by events in India sponsored by mygooi and featuring live Gilli-danda games.
The game is played with a long wooden stick – the danda – and a small oval piece of wood – the gilli. A player stands in a small circle with the gilli on the ground, flips the gilli into the air with the danda and, while it is in flight hits it, sending it as far as possible. The player then runs from the circle to a designated spot before an opponent retrieves it. The game can be played as individuals or in teams, but there's no maximum number of players on a team.
In the app, players score points by hitting the gilli as far across the field as possible without an outfielder catching it. "Skill-based controls make it easy to start playing but hard to master," said Namboor, "and its graphics are unique. Leader boards let you take on your friends. It's thoroughly gooi."
About Mygooi
Mygooi™ is an energetic brand platform that is digital, creative, disruptive and global. Its portfolio of emerging products sizzle with IC/DC (Innovation and Creativity/Disruption and Community). Mygooi's utility and purpose are to bring people together with innovative digital products. Based in Des Moines, Iowa; Stockholm, Sweden; and Chennai, India, Mygooi lives where the sun always shines and has as its mission to Go Where The Life Is.™
See Mygooi updates and watch GooiNation grow on Facebook at facebook.com/mygooi.
Visit our website and download apps at mygooi.com.
Mygooi supports the Cystic Fibrosis Foundation. Check them out at cff.org.
Learn more about Gilli-danda at Wikipedia (en.wikipedia.org/wiki/Gilli-danda)
Media Contacts:
Jon Buscall, CMO
Mygooi
+46768637285 / jonb(at)mygooi.com
Mark Perlman
Mygooi
312-315-0707 / Markp(at)mygooi.com
Richard Greb
Mygooi
847-651-1445 / Richardg(at)mygooi.com