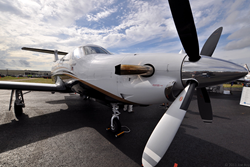 "The addition of a fixed-wing air ambulance in Grants Pass will provide the community with a critical service in the time of an emergency"
Medford, Oregon (PRWEB) September 18, 2014
Oregon Lifeguard announced the opening of it newest fixed-wing air ambulance base in Grants Pass, Oregon to serve the citizens of the region with quick, high-quality air medical transportation. The airplane and crew will be able to respond to flight requests from Grants Pass and other locations throughout Southern Oregon.
"It is our mission to integrate into the health care community. To provide more efficiency to healthcare delivery to the citizens of Grants Pass and Southern Oregon." stated Wade Patten, Oregon Lifeguard Program Director.
The new air medical base in Southern Oregon will begin transporting patients from the area on September 17th and has been busy preparing for the companies first week of operation. "We have been very pleased with the support we have received from the hospitals here and look forward to working with them long into the future" explained Patten.
The base will decrease transport times from area hospitals and other receiving locations substantially. The two-hour drive between Grants Pass and Klamath Falls can be completed in just over 20 minutes in the now permanently stationed Oregon Lifeguard Pilatus PC-12 airplane.
"The addition of a fixed-wing air ambulance in Grants Pass will provide the community with a critical service in the time of an emergency," said Tony Henderson, CEO at Oregon Lifeguard. "Our goal is to decrease transport times during these emergencies and we are proud to serve the people of this community."