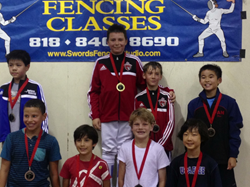 We are proud to have him fencing with AFM and plan to continue challenging him and all of our fencers to their highest potentials
Campbell, CA (PRWEB) September 19, 2014
Bartosz Kuligowski trains at the Academy of Fencing Masters in Campbell, CA and with only one year of fencing training and at the young age of 10 years old, he has earned the #3 rank in the national standings for Men's Epee in the 10-and-under (Y10) category.
Bartosz attends Baker Elementary School in Campbell and joined AFM one year ago to begin fencing. According to club founder, Irina Chirashnya, "Bartosz has not only shown tremendous growth at a very young age and while new to the sport, he also shows a positive attitude and great sportsmanship in training and at competitions. We are proud to have him fencing with AFM and plan to continue challenging him and all of our fencers to their highest potentials."
Two weeks ago Bartosz traveled to Dallas, TX to participate in a national competition on the Super Youth Circuit. He competed in both the Y10 and Y12 (12-and-under) age categories, winning Gold in Y10 and also placing 15th among the Y12 fencers. This performance earned him his #3 rank in the country, marking a noteworthy achievement and a proud moment for Bay Area fencing.
This past weekend Bartosz earned his second Gold medal in two weeks at a regional tournament in Pasadena, CA. It's still early in the 2014-2015 fencing season, and Bartosz is on the path for an exciting year culminating with the biggest tournament of the season right in his backyard! Summer Nationals this year is being held in San Jose and all Bay Area fencers are looking forward to the hometown advantage, as well as representing their fencing community to the nation.