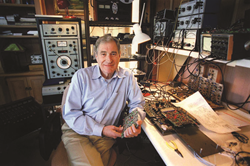 The art and science of caring provided at the Brain Health Center seems unique. That is why we wanted Ray's name associated with this program
San Francisco, CA (PRWEB) September 18, 2014
Sutter Health's California Pacific Medical Center (CPMC) honors the late Ray Dolby, founder of Dolby Laboratories, by naming the Ray Dolby Brain Health Center in San Francisco.
The family of Ray Dolby provided a founding gift of $21 million in 2011 to establish the Brain Health Center, which provides services to patients and families suffering from Alzheimer's, dementia or other memory disorders. More than 2,000 people have been treated at the center since its opening in 2012.
Catherine Madison, M.D., a neurologist and director of the Ray Dolby Brain Health Center, said the goal is to be "more than a center where people can get the best care possible. We also want to change the way people think about brain health and deal with Alzheimer's or other forms of dementia. We could not have done this without the involvement of the Dolby family."
"Dr. Madison and her team can do things for patients and families that aren't done anywhere else," says Dagmar Dolby, wife of Ray Dolby. "In a unique collaboration with the Alzheimer's Association, the Brain Health Center helps families understand how to better deal with the many challenges of a cognitive disorder. The care team stands beside a family to give them encouragement, support and practical advice and refers people to additional community resources. The art and science of caring provided at the Brain Health Center seems unique. That is why we wanted Ray's name associated with this program."
The Ray Dolby Brain Health Center was the first program of its kind in the U.S. to be developed in collaboration with the Alzheimer's Association. Not only was the Alzheimer's Association involved in the planning of the Center, but it also provides a family care specialist embedded in the care navigation team. This team offers workshops on brain health, coping with memory loss and caregiving, as well as support groups for newly diagnosed individuals and their families.
"We are excited to support CPMC in their advanced approach to finding the most complete care for Alzheimer's patients and their families," said David Dolby, son of Ray Dolby. "They are incorporating all the best practices and taking a scientific approach to proving a model of care that can be leveraged around the world."
"None of this would have been possible without the extraordinary support of the Dolby family," adds Mark Kimbell, president of CPMC Foundation. "They have provided the funding to ensure the long-term sustainability needed for Dr. Madison and her team to make a real difference in the lives of patients and their families. It simply would not have happened without philanthropy and the Dolby family's leadership."
###
About California Pacific Medical Center (CPMC)—A Sutter Health Affiliate
At San Francisco's California Pacific Medical Center, we believe in the power of medicine. We research the most up-to-date treatments, hire the most qualified individuals, and practice the most modern, innovative medicine available. We deliver the highest-quality expert care with kindness and compassion in acute, post-acute and outpatient services, as well as preventive and complementary medicine. As one of California's largest private, community-based, not-for-profit, teaching medical centers, and a Sutter Health affiliate, we are able to reach deep into our community to provide education, screening and financial support in some of the city's most underserved neighborhoods. Like us on Facebook, watch us on YouTube and follow us on Twitter. For more information visit our web site at http://www.cpmc.org.