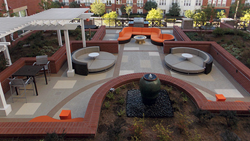 At Sundek, we've pioneered options in concrete repair for Washington area businesses, from commercial operations to resorts and hotels." - Bob Miller
Washington, D.C (PRWEB) September 20, 2014
Sundek of Washington has become synonymous with quality custom concrete solutions for both homes and businesses. The company has today announced new options available for business owners, property and hotel managers seeking concrete repair in Washington D.C. and the surrounding areas.
"Concrete is immensely durable but it must be maintained correctly in order to provide the longest use-life," states Bob Miller of Sundek of Washington. "At Sundek, we've pioneered options in concrete repair for Washington area businesses, from commercial operations to resorts and hotels. Cracked, chipped or pitted concrete can be more than an eyesore – it can quickly deteriorate, causing safety concerns and disrupting operations. We can help."
One of the most versatile options for concrete repair in Washington D.C. and the surrounding areas is resurfacing. In this process, Sundek's experienced technicians first prepare the old concrete's surface for repairs, and then apply a Sundek approved concrete overlay product. The overlay floats over and into chips, cracks and breaks, filling in voids. Once the overlay cures, it is impermeable, protecting the concrete surface below for a restored, usable surface.
Concrete repair for Washington area businesses can also include decorative concrete options, including stamping and staining. This provides the means for business owners to enhance the appearance of their concrete, while providing greater safety with one of Sundek's multiple products. Staining and dying and even custom logos in the surface are also possible, providing the means to create virtually any design a business might require.
"Concrete doesn't have to be boring and gray," Mr Miller added. "At Sundek of Washington, we take pride in giving our customers the ability to create an appealing aesthetic that will fit their needs, whether they're running a warehouse, repairing concrete around their resort's pool deck, or installing a new concrete floor in the restaurant of their five-star hotel."