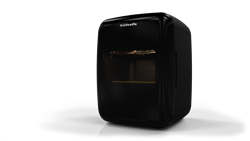 Brooklyn, NY (PRWEB) September 18, 2014
Solidoodle, a leader in consumer 3D printing, is excited to showcase its new consumer desktop 3D printers at World Maker Faire September 20th and 21st at the New York Hall of Science in New York City. The Brooklyn-based manufacturer will debut its Solidoodle Press and Solidoodle Workbench printers for the first time and provide visitors with live 3D printing demonstrations at booth 478 in Startup Row.
"We're excited to debut our new Solidoodle Press and Workbench 3D printers at Maker Faire this weekend," said Solidoodle CEO Sam Cervantes. "We launched our company three years ago at Maker Faire. It's amazing to see how far we've come in just three years."
In addition, Solidoodle has launched a Maker Sale giving discounts on its new Workbench models. The sale will continue through Maker Faire, ending on September 24th.
About Solidoodle
Solidoodle, founded in 2011 by aerospace engineer and 3D printing industry-veteran Sam Cervantes, builds accessible desktop 3D printers for the consumer market. Based in Brooklyn, New York, Solidoodle has shipped over 10,000 3D printers to customers around the world. For more information about Solidoodle, please visit Solidoodle.com.
About Maker Faire
Maker Faire is the Greatest Show (and Tell) on Earth—a family-friendly festival of invention, creativity and resourcefulness, and a celebration of the Maker movement at the New York Hall of Science at 47-01 111th St in Queens, NY. For more information on Maker Faire, visit http://makerfaire.com/new-york-2014
For press or business inquiries, please contact Kyla Starinieri at kyla(at)solidoodle(dot)com to schedule a meeting or interview during the show.