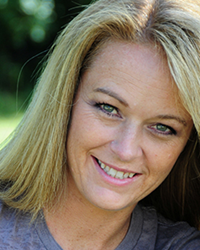 I look forward to forming relationships and helping residents achieve their health and fitness goals.
Monroe, OH (PRWEB) September 19, 2014
Mount Pleasant Retirement Village has partnered with Atrium Family YMCA to bring Health and Well-Being Coach Christi Hall to campus.
Hall's journey to a health and fitness career began after surviving brain tumors and gaining weight as a result of years of medication. Through a local trainer, Hall began weight training and learning about nutrition. One year later she had lost 50 pounds, lowered her cholesterol and blood sugar, and increased her strength, endurance and cardio.
After joining the YMCA staff, she furthered her education in the health and fitness industry by pursuing certifications in nutrition, strength and conditioning, active older adults, and healthy practices and principles.
"I look forward to forming relationships and helping residents achieve their health and fitness goals," she said when asked about her new position with Mount Pleasant.
Hall will be at the Robert A. Quisno Wellness Center on Mount Pleasant's campus Mondays, Wednesdays and Thursdays from 9:30-11:50 a.m. and Tuesdays from 1-3 p.m. She will provide fun fitness programming and will be available for individual wellness plans to fit a variety of goals and lifestyles.
An open house to meet Hall, with fun, food and prizes, will be held on Monday, Sept. 22 from 9:30 a.m.-1 p.m.
Hall joins Mount Pleasant from Countryside YMCA Otterbein where she helped open the Retirement Community's YMCA branch as a personal trainer, lifeguard and customer service manager.
Before the YMCA, Christi worked in the marketing, promotions, and event planning industry. She is a Lebanon native (3rd generation) and is married to Mark, a Firefighter/EMT at Turtlecreek Township. She and Mark have two daughters, Ally a volleyball coach at Ohio Christian University, and Bailey a senior at Lebanon High School.
About Mount Pleasant Retirement Village
Mount Pleasant Retirement Village is one of 12 retirement communities owned and operated by OPRS Communities, a wholly owned subsidiary of Ohio Presbyterian Retirement Services (OPRS), headquartered in Columbus. Since 1922, OPRS has defined the highest standards of quality of life for older adults. Each year, OPRS serves more than 73,000 people annually through its wholly owned subsidiaries OPRS Communities and Senior Independence.
###