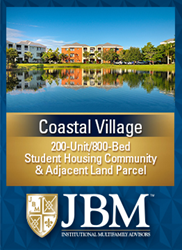 Tampa, FL (PRWEB) September 22, 2014
JBM™ launched to market Coastal Village, the only off campus, purpose built student housing complex serving Florida Gulf Coast University (FGCU). Coastal Village competes with only three other student housing projects, which are on-campus and owned by FGCU. The adjacent 23.38-acre parcel offers the opportunity for immediate development of an additional 168 units. The school has had a history of aggressive enrollment projections and organized support to help achieve remarkable growth. FGCU is home to more than 14,000 students and five colleges. Since FGCU opened its doors in 1997, the student population has grown exponentially by some 445 percent and is expected to grow to approximately 24,000 students by 2020.
Coastal Village is conveniently located 2.4 miles from the university in one of the most desirable areas of Fort Myers, near the popular Gulf Coast Town Center and Miromar Outlets. In addition, it has close proximity to world renowned beaches of Sanibel/Captiva Islands and Fort Myers Beach.
About JBM™ Institutional Multifamily Advisors
JBM™ Institutional Multifamily Advisors is the most reliable source of brokerage services in the institutional multifamily asset and investment industry with Florida offices located in Tampa, Orlando, and Naples. JBM™ specializes in the sale of high-rise, mid-rise and garden style apartment communities throughout the Southeast United States and focuses exclusively on asset disposition services, capitalization and recapitalization of existing and merchant development opportunities of large apartment type portfolios and singular assets for Domestic and Foreign Institutional, Private National and Regional clientele. The firm's collective team efforts have exceeded $8.9 Billion and over 102,000 apartment units listed, marketed and sold. The firm delivers a strong legacy of excellence in representation and the most effective investment sales platform throughout the Southeast United States, meriting Jamie May and JBM™ as a trusted leader in the multifamily industry.
If you would like more information about this property or to schedule an interview with Jamie May, Chairman & CEO or Eddie Yang, Principal and Executive Director please, contact Claudia Raines at 813.812.5003 or via email. To learn more, please visit: JBM.com