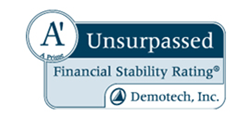 We are extremely proud of the continuation of our A' Prime rating from Demotech.
Woodbridge, NJ (PRWEB) September 21, 2014
Conventus Inter-Insurance Exchange, a leading New Jersey medical malpractice insurer, has received affirmation of its A' (A Prime) Unsurpassed Financial Stability Rating® from Demotech, Inc. This rating indicates that Conventus offers the superior financial stability that comes with positive surplus for policyholders, liquidity of invested assets, an acceptable level of financial leverage, reasonable loss and loss adjustment expense reserves (L&LAE), and realistic pricing.
"We are extremely proud of the continuation of our A' Prime rating from Demotech," states Lyn Winters, President of Conventus. "This continued designation confirms our financial integrity and the stability so critical to our business and to our members."
About Conventus
Owned and controlled by New Jersey physicians, Conventus (http://www.conventusnj.com) is a medical liability company that offers stable coverage backed by world-class claims and underwriting supported by services designed specifically to help members improve practice efficiency, risk management, and profitability. Conventus members enjoy not-for-profit premium rates, interest-free payment plans, a four-year record of receiving Owner Benefit Plan dividends, 24/7 access to the professionally-staffed Conventus Practice Hotline, and more.
About Demotech, Inc.
Demotech, Inc. is a financial analysis firm specializing in evaluating the financial stability of regional and specialty insurers. Since 1985, Demotech has served the insurance industry by assigning accurate, reliable and proven Financial Stability Ratings® for Property & Casualty insurers and Title underwriters. FSRs are a leading indicator of financial stability, providing an objective baseline of the future solvency of an insurer. Demotech's philosophy is to review and evaluate insurers based on their area of focus and execution of their business model rather than solely on financial size. Visit http://www.demotech.com for more information.