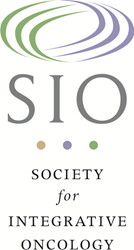 Albany, New York (PRWEB) September 23, 2014
Healthcare professionals, patients and advocates from around the globe will convene at the Society for Integrative Oncology (SIO) 11th International Conference, to be held October 26-28 in Houston, Texas to discuss the latest in evidence-based research and practice in individualized integrative cancer care. This multi-disciplinary forum includes physicians, scientists, researchers, nurses, psychologists, nutritionists, naturopaths, acupuncturists, and other complementary care practitioners.
"This year's conference, presented in association with MD Anderson Cancer Center, University of Texas, will focus on the theme of Personalized Integrative Oncology: Targeted Approaches for Optimal Outcomes," said SIO President Heather Greenlee, ND, PhD. "The sessions will highlight innovations in personalized medicine and ways this will advance the evolution of individualized integrative cancer care to the next level."
Integrative oncology approaches help prevent cancer, facilitate cancer treatment and recovery, and aid in its control through use of diet and complementary therapeutic options, including physical activity, nutritional supplementation, botanical products, mind-body therapies, acupuncture, massage therapy, and more. The options are strategically integrated within conventional medical care models, which often include chemotherapy, radiation therapy, surgery and targeted agents informed by genomic and molecular diagnostics.
Today a significant portion of cancer patients use some type of integrative or complementary therapeutic approaches throughout their cancer journey. In addition to conventional therapies, they want to learn about and utilize an integrative approach to personalized comprehensive care. Integrative oncology interventions have been shown to decrease some of the side effects of traditional cancer treatment, allowing many patients to tolerate their full, prescriptive course, thereby improving clinical outcomes and quality of life. Many health consumers also incorporate lifestyle medicine approaches to help prevent the onset of cancer.
About the Society for Integrative Oncology: The Society for Integrative Oncology is the leading worldwide organization dedicated to integrative medicine specific to cancer patients. A non-profit, multi-disciplinary organization founded in 2003, the organization's mission is to advance evidence-based, comprehensive, integrative healthcare to improve the lives of people affected by cancer. For more information or to register for the conference, visit our conference web site or contact the SIO at 347-676-1746.
About MD Anderson: The University of Texas MD Anderson Cancer Center in Houston ranks as one of the world's most respected centers focused on cancer patient care, research, education and prevention. MD Anderson is one of only 41 comprehensive cancer centers designated by the National Cancer Institute (NCI). For the past 25 years, MD Anderson has ranked as one of the nation's top two cancer centers in U.S. News & World Report's annual "Best Hospitals" survey. MD Anderson receives a cancer center support grant from the NCI of the National Institutes of Health (P30 CA016672).