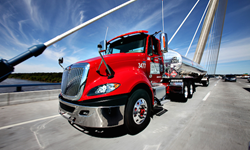 ROCKVILLE, MD (PRWEB) September 22, 2014
Transportation Costing Group (TCG), today announced that Groendyke Transport, Inc. has chosen to implement its Truckload Cost Information System (TL/CIS) and integrate the advanced solution with its enterprise management software to enhance its profitability analysis.
"Team members throughout Groendyke Transport have evaluated various applications and believe TCG provides the most effective solution to ensure efficient USE of our resources, particularly in a capacity constrained environment," stated Michael J. Barnthouse, chief financial officer for Groendyke. "We have a committed team of professionals who deliver excellence, and we expect our partnership with TCG will promote continued success for Groendyke with the use of innovative systems such as this."
Headquartered in Enid, Oklahoma, Groendyke Transport is one of the nation's largest tank truck carriers. Founded in 1932, the family-owned and operated liquid bulk carrier has more than 30 terminal locations and handles over 420,000 loads annually. Services provided by Groendyke include Just-In-Time Delivery, inventory management at more than 800 retail and wholesale sites and rail-to-truck transfer for a wide range of liquid products.
About TCG
Transportation Costing Group is the provider of the most widely used suite of Profitability Management Tools and activity-based costing models to the motor carrier industry. TCG provides models tailored to specific carrier operations. Information on services offered by TCG can be obtained by contacting (800) 328-9700 or info(at)tcgcis(dot)com. For general product information, please visit http://www.tcgcis.com.
Media Contact:
Susan Fall
LaunchIt Public Relations
858-490-1050
susan(at)launchitpr(dot)com
http://www.LaunchItPR.com