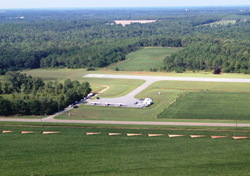 "It's a very micro-focused search at this point," said Maj. Harvey Yarborough, mission incident commander.
Abbeville, Alabama (PRWEB) September 19, 2014
CAP Redirects Focus as Search Continues for Missing Vintage Plane in Alabama
Civil Air Patrol's Alabama Wing is shifting its focus to the ground as the search for a missing 1942 Piper Cub with two men aboard enters its third day in southeast Alabama near the Georgia state line.
By combining CAP cell phone forensics with witness accounts of the vintage plane's flight, searchers are concentrating on a 1-square-mile area in Henry County along the Chattahoochee River about 2 miles south of the Walter F. George Dam, said Maj. Harvey Yarborough, who served as CAP's incident commander for the search Thursday.
"It's a very micro-focused search at this point," he said. "It's going to be a beautiful day; we should have great search weather."
He described the targeted terrain as open fields interspersed with pine thickets.
The vintage Piper J3C-65, a drab military observation aircraft, was reported missing Tuesday after failing to return to Headland, Alabama, after a leisure flight to Eufaula, Alabama, about 40 miles away. The pilot and his passenger took off in the two-seater at 10 a.m. and had been expected back at 2 p.m. The Air Force Rescue Coordination Center asked the Alabama Wing to participate in the search after local authorities requested assistance.
Maj. Justin Ogden, a CAP cell phone expert, helped narrow the search area Thursday to a 40-square-mile area by analyzing cellular signals from the plane. Those signals ceased about 11 a.m. Central time, Ogden said.
Four ground teams – two each from the Alabama and Georgia wings – will be searching today, as well as three CAP planes from Alabama and two from Georgia, Yarborough said.
The ground teams have "a priority track they're going to walk, and they're going to knock door-to-door" in search of witnesses who haven't yet come forward, he said.
"The pilot appeared to be flying over the river," Yarborough said. "They ground teams will be looking for a possible place he could have landed if he had trouble."
He said the pilot never indicated any problems before his and his co-pilot's cellphones went silent.
CAP ground team members are highly trained, Yarborough said. They train for a year before participating in actual missions, focusing not only on search techniques and detection and interpretation of visual clues but also on investigative interviewing of witnesses.
Maj. David Hester, the Alabama Wing's assistant director of communications, began serving as CAP incident commander for the mission today.
As of Thursday, the Alabama Wing had made 11 flights in search of the Piper Cub and the two men. In addition, about 25 CAP members have been involved in the mission at that time.
Civil Air Patrol, the official auxiliary of the U.S. Air Force, is a nonprofit organization with 60,000 members nationwide, operating a fleet of 550 aircraft. CAP, in its Air Force auxiliary role, performs about 85 percent of continental U.S. inland search and rescue missions as tasked by the Air Force Rescue Coordination Center and is credited by the AFRCC with saving an average of 70 lives annually. Its unpaid professionals also perform homeland security, disaster relief and drug interdiction missions at the request of federal, state and local agencies. The members play a leading role in aerospace education and serve as mentors to more than 24,000 young people currently participating in the CAP cadet programs. Performing missions for America for over 70 years, CAP will receive the Congressional Gold Medal in the coming months in honor of the heroic efforts of its World War II veterans. CAP also participates in Wreaths Across America, an initiative to remember, honor and teach about the sacrifices of U.S. military veterans. Visit http://www.gocivilairpatrol.com, http://www.capvolunteernow.com and http://www.capgoldmedal.com for more information.
Contact info: Julie DeBardelaben – jdebardelaben(at)capnhq(dot)gov – 334-953-7748, ext. 250; 334-549-2224 (mobile)
Steve Cox – scox(at)capnhq(dot)gov – 334-953-7748, ext. 251; 334-296-5881 (mobile)