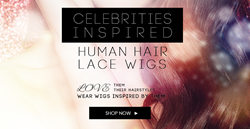 UniWigs New Arrivals Just In- Human Hair Lace Wigs Inspired By Famous Celebrities!
(PRWEB) September 22, 2014
UNIWIGS, one of the leading online stores of real and synthetic hair wigs, hair extensions and hair pieces, offers a line of human hair lace wigs inspired by 6 famous celebrities. It's the fashion trend and it also shows people what the latest celebrity hairstyles are.
For people who love the famous star Rihanna, there are 4 different hairstyles to choose from: a style of yaki straight lace wig, two styles of ombre wave lace wigs and a hot ombre red lace wig. People can go to the product page to choose the color, length, cap size and cap construction that they want. Other than that, UniWigs gladly accepts 100% customization of personalized wig demands, and people can recommend their favorite celebrity hairstyles to UniWigs as well.
There are also 4 different Katy Perry inspired hairstyles, 4 styles of Zoe Saldana inspired human hair lace wigs, 4 different Jessica Alba inspired hairstyles, 3 styles of Mariah Carey inspired human hair lace wigs and 2 popular Ciara wave ombre human hair lace wigs. People who like these great celebrities can easily find their desired lace wigs respectively here at UniWigs.com.
The activity of getting a free color ring when buying human hair wigs is still going on, so people can take advantage of this activity to get a free color ring when buying a great celebrity wig. A color ring is very important for people often buy wigs.
Try new and wear fashion, don't hesitate to check out UniWigs.com. New human hair lace wigs inspired by great celebrity hairstyles and weekly deal promotion!
About UNIWIGS:
UniWigs.com offers a variety of wigs as well as other hair products. Online customers can find lace front wigs, full lace wigs, clip in hair extensions, braids and hair pieces at uniwigs.com. With a professional hair stylist team and celebrity hair styles, UniWigs has become a well-known brand broadly recommended by hundreds of web gurus and customers.