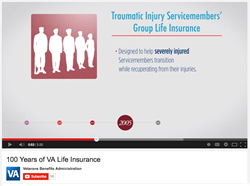 "FG has a history of creating videos to assist the VA."
Allentown, PA (PRWEB) September 23, 2014
First Generation (FG), an advertising and integrated marketing agency and service-disabled veteran-owned small business (SDVOSB), was recently awarded a contract with the Veterans Benefits Administration (VBA), an administration within the U.S. Department of Veterans Affairs (VA).
The contract grants First Generation the opportunity to assist the VBA in effectively communicating changes in VA benefits and services to a wide variety of shareholders. The 508 compliant videos will describe new technology initiatives, transformation milestones and how to apply for benefits online.
Under the direction of the award-winning production team of Stephen White, David Beedle and John Costello, FG will script, direct and edit several public service announcements, develop multiple animated videos and produce over twenty video interviews to help the VBA communicate important information to valued shareholders.
"FG has a history of creating videos to assist the VA, and we are thrilled for the opportunity to continue to do so," says First Generation President, Alexandra Shade. "Our dedicated team of producers, directors and editors are eager to deliver high-quality videos to help the VBA accomplish their mission and reinforce our status as a robust partner for the U.S. government."
For more information on the benefits of partnering with FG as an SDVOSB, please visit http://www.firstgenSDVOSB.com. To view the first completed animated video illustrating the VA Life Insurance's 100 Year Anniversary, please visit https://www.youtube.com/watch?v=wCBkTaE5KoY.
About First Generation
Celebrating 27 years in business, First Generation defines, develops and delivers marketing campaigns for commercial business, non-profit organizations and the federal government. Services include strategic communications, integrated marketing and advertising, video production, interactive design and programming, event planning, web design, programming, instructional design and training, media relations and social media integration. A service-disabled veteran-owned small business (SDVOSB), First Generation also provides full-time on-site media consultants for several global organizations. First Generation is headquartered in Allentown, PA with offices in Washington, DC, and Vicenza, Italy. For more information, please visit http://www.firstgencom.com.