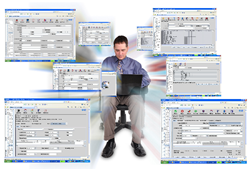 The selection of RAM's solution and the rapid migration of their business is an endorsement of HEALTHsuite's extensive functionality and adaptability for healthcare payers of all sizes,"
Fort Washington, Pennsylvania (PRWEB) September 24, 2014
RAM Technologies, Inc. is pleased to announce that the third largest Medicare health plan on the island of Puerto Rico has migrated all of their Medicare Advantage Business to RAM's HEALTHsuite® Mercato administrative platform. The decision was due in no small measure to HEALTHsuite's demonstrated capabilities supporting the Medicare Advantage business for one of their subsidiaries. The migration of the Medicare Advantage lines was completed in less than eight (8) months.
"The selection of RAM's solution and the rapid migration of their business is an endorsement of HEALTHsuite's extensive functionality and adaptability for healthcare payers of all sizes," said Christopher P. Minton, Executive Vice President of RAM Technologies. "We are pleased to be recognized for our superior Medicare Advantage capabilities, and look forward to working together to meet the challenges of the evolving industry."
HEALTHsuite is the premier solution for health plans who administer Medicare Advantage, Medicaid, and Dual Eligible health benefits. Functions include enrollment and eligibility processing, benefit administration, provider contracting and reimbursement, care management, utilization and medical management, claims administration, subrogation / overpayment recovery, customer service, premium billing, fulfillment, management and operational reporting and more.
In addition to the HEALTHsuite solution, RAM Technologies also offers the eHealthsuite™ web portal product. eHealthsuite enables members and providers to interact in real time with the health plan through a secure Internet connection. This 24 x 7 self-service functionality lowers administrative costs for a health plan by reducing demands on the plan's customer service personnel.
About RAM Technologies
RAM Technologies is the leading provider of enterprise claims processing software and claims adjudication software for health plans. For over 33 years RAM Technologies has led the way in the creation of Medicaid software solutions, Medicare software solutions and software for dual eligible processing (the Medicare-Medicaid Financial Alignment Initiative). RAM Technologies has been recognized on Inc. Magazine's List of Fastest Growing Private Companies and the Philadelphia Business Journal's List of Top Software Developers for their advancements in the creation of comprehensive claims management software for Medicare and Medicaid administration. To learn more about RAM Technologies' healthcare claims processing and managed care software solutions call (877) 654-8810 or visit ramtechnologiesinc.com.