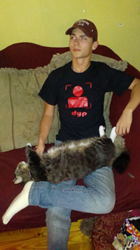 "I planned to take my yearbook photo with my cat since my junior year because I didn't want to look like everyone else, said Draven Rodriguez, 16.
Los Angeles, California (PRWEB) September 23, 2014
Schenectady High School senior Draven Rodriguez's controversial yearbook picture is now 'scannable' thanks to Digital Yearbook Page Inc., a Los Angeles-based startup. Digital Yearbook Page (DYP) is a digital extension of the printed yearbook that uses your smartphone along with Portrait Recognition technology to instantly see a student's time capsule style choice of photos, videos, and written information about themselves. Of course Draven's DYP contains the epic viral yearbook picture with his rescue cat, Mr. Bigglesworth, as well as eight other entertaining and outlandish shots.
"We created our free app so students can express themselves in the yearbook in a way that a simple headshot simply cannot do," said Robert Nunn, Co-Founder of DYP. "Once we heard Draven's story, we immediately reached out to him and Schenectady High School. We let him know we have the solution to his and many other students' limitations with printed yearbooks."
Yearbook photo controversies are becoming the norm these days. This summer alone, there have been reports of schools airbrushing yearbook portraits to change the appearance of girls' clothing, while some yearbook editors used black tape to cover senior quotes they deemed inappropriate, and a teenage mother got banned from mentioning her daughter in a yearbook section titled, 'What best represents me'.
Most times, as with the case with Draven, the students are not trying to cause controversies or problems for their school. The Gen Y millennial students are simply trying to express themselves in ways they're accustomed to. This stems in part from their daily use of social networks such as Twitter and Instagram.
"I planned to take my yearbook photo with my cat since my junior year because I didn't want to look like everyone else," said Draven Rodriguez, 16. "I'm glad I found out about DYP because now I can really go all out and express myself. All my classmates can too."
Digital Yearbook Page Inc. has sent out informational materials to high schools across America showing students how to use DYP to express themselves using this new digital extension to the printed yearbook.
If you'd like to see more of Draven's epic photos simply download our free yearbook app and search for Schenectady High School class of 2015. DYP is available on iOS and coming soon to Android.