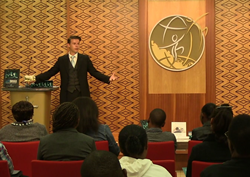 We received such great feedback, so many positive statements of people deciding to use these materials to make a difference in the community.
Los Angeles, CA (PRWEB) September 25, 2014
A groundswell is building in South Africa—a grassroots movement to tackle drug abuse. And for good reason.
The South African Police Service (SAPS) reports drug related crime rose by 13.5 percent last year. According to a 2009 survey, 15 percent of the population of South Africa has a drug problem and i llicit drug use is twice the global average. And with 60 percent of crime attributed to alcohol or drug abuse, on August 25, Western Cape Premier Helene Zille called on civil society to help address this urgent issue.
As those in leadership positions can reach thousands of youth in their communities and churches, Maurithus Meiring, Director of Public Affairs of the Church of Scientology of Pretoria, invited dozens of educators, social workers, healthcare professionals and church and community leaders to attend a three-day drug education and prevention seminar to learn the tools they need to address this issue.
Held August 13-15 in the Chapel of the Church of Scientology Pretoria, the program began with drug education—educating these leaders, so they could then educate others. Using the booklets and videos of The Truth About Drugs curriculum, those attending learned about the most commonly abused drugs: what they are, how they work, what are their short and long term effects, and what drug dealers and peers tell youth to convince them to experiment with these substances.
This was followed by a final day in which they studied and practiced conducting drug education lectures themselves.
Not only did they gain the knowledge and confidence to put these materials to use, some of the attendees benefited from the program personally. One brought her son to the seminar and he later told her he decided to stop using drugs. Another gave copies of booklets to his son to read and the next day his son distributed the booklets to his friends at school.
"We received such great feedback," says Meiring, who intends to continue this program and expand it to more groups and leaders. "So many positive statements of people deciding to use these materials to make a difference in the community."
The Church of Scientology supports The Truth About Drugs drug education and prevention initiative. To make this and the other humanitarian and social betterment initiatives it supports even more broadly available, the Church of Scientology has published a new brochure, Voice for Humanity—Real Help, Real Results.
Inspired by the words of L. Ron Hubbard, Founder of the Scientology religion, that "a being is only as valuable as he can serve others," Scientologists wholeheartedly support these programs. Participation and collaboration in these initiatives is invited and welcomed from all who seek to improve conditions for themselves and others.
For more information, visit the Scientology website at http://www.Scientology.org/how-we-help/voice-for-humanity.